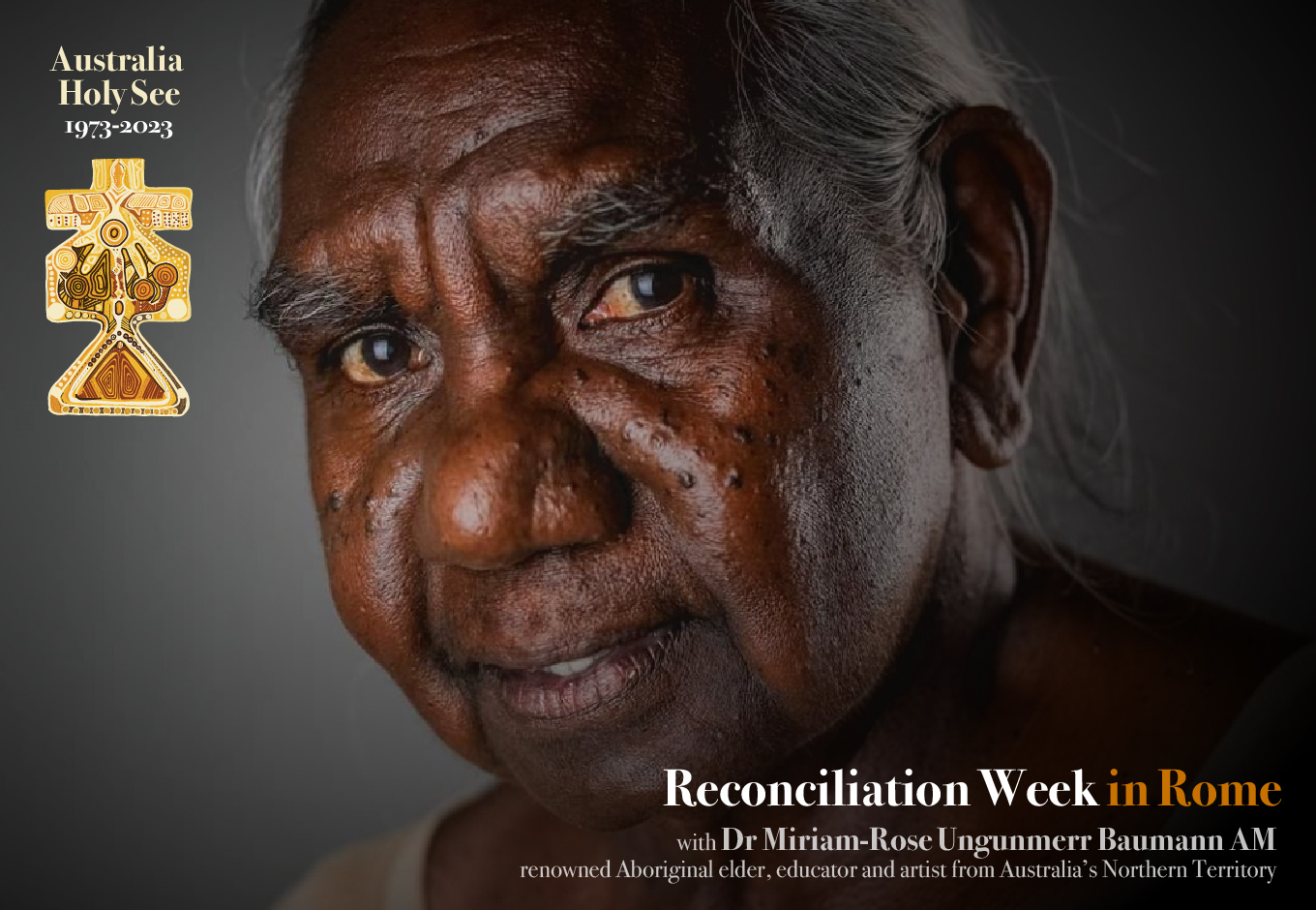 The Australian Embassy to the Holy See is announcing a series of special events from 29 May to 3 June 2023, focused on reconciliation with Indigenous Australians. The events will coincide with the visit by Dr Miriam Rose Ungunmerr Baumann AM, a renowned Australian Aboriginal elder, educator and artist who is expected to meet with Pope Francis in what will be her first trip from Australia's 'outback' to Rome.
Dr Ungunmerr Baumann trained in a Catholic mission school in her rural community near Darwin and went on to become the first fully-qualified Aboriginal teacher in Australia's Northern Territory. Throughout her life, she has made an enormous contribution to education, environmental protection and the promotion of Indigenous culture and art, earning her the recognition of Senior Australian of the Year in 2021. Her presence in Rome, which will take place during what Australians refer to as National Reconciliation Week, will add special significance to a year which also marks the 50th anniversary of diplomatic relations between Australia and the Holy See.
Public events:
Building bridges through education and culture
31 May 2023 at 10.30am - 12 noon (Rome time) at ACU Rome Campus, Largo Berchet 4, Rome
A dialogue hosted by the Australian Catholic University between Dr Miriam-Rose Ungunmerr Baumann and Monsignor Paul Tighe, Secretary, Dicastery of Education and Culture, moderated by Dr Donna Orsuto, Director of the Lay Centre, with remarks by Fr David Holdcroft SJ, Education Specialist, Jesuit Refugee Service.
Click for more information and streaming
Marking 50 years since the first Aboriginal Liturgy
31 May 2023 at 6pm - 8pm (Rome time) at Domus Australia,Via Cernaia 14/B, 00185 Rome
A mass presided by HEm Cardinal Arthur Roche, Prefect of the Dicastery for Divine Worship and the Discipline of the Sacraments followed by a reception.
Recording below:
An Indigenous perspective on integral ecology: the concept of Dadirri
1 June 2023 at 2pm - 3.30pm (Rome time) at UISG Headquarters, Piazza di Ponte Sant'Angelo 28, Rome
A conversation hosted by UISG with Dr Miriam-Rose Ungunmerr Baumann on caring for our common home, facilitated by Sr Adele Howard RSM, in partnership with Caritas Internationalis.
Click for more information and streaming
A contemporary Australian perspective on the recognition of Aboriginal rights
3 June 2023 at 10.30am - 12 noon (Rome time) at Aula delle Tesi, Pontifical Gregorian University, Piazza della Pilotta 4, 00187 Rome
A lecture by Fr Frank Brennan SJ, advocate for Indigenous Australians followed by remarks from Monsignor Anthony Ekpo, Undersecretary of the Dicastery for Promoting Integral Human Development.
Click for more information and streaming
For more information please write to [email protected]