The Australian Embassy to the Holy See will be closed on Monday 5 June 2023 (instead of Italian Republic Day - 2 June). The Embassy will reopen on Tuesday 6 June 2023.
For travel advice for Italy, San Marino, Albania and Libya please visit Smartraveller.
Welcome to the website of the Australian Embassy to the Holy See
50 years of Australia-Holy See Bilateral Relations (1973 – 2023)
In 2023, Australia and the Holy See are marking 50 years since the establishment of diplomatic relations. Our bilateral relationship has grown and consolidated in the past 50 years, with key events propelling it forward to the mature partnership it is today.
The theme for the anniversary is "Marking Milestones: Forging a Better Future", with four main focus areas: ending exclusion, injustice and harm; amplifying First Nations voices; protecting our common home; and identifying new pathways for change through education and sport.
This is an opportunity to reflect on the evolution of our ties, and to showcase how the two countries work towards shared goals. We are planning initiatives that both recall the key moments in the past half-a-century and promote a vision for cooperation going forward.
This website and the Ambassador's Twitter account @ausambholysee are the best tools to learn about our Embassy's initiatives and work.
The Australian Embassy to the Holy See is proud to feature Aboriginal art to promote the 50th Anniversary of Australia-Holy See diplomatic relations (1973-2023).
God with us down on the Daly was painted by Dr Miriam-Rose Ungunmerr Baumann, who is an Aboriginal elder from the Nauiyu community on the Daly River. She is an artist and educator whose life's focus has been helping young Indigenous people 'walk in two worlds'. Dr Ungunmerr Baumann was the first fully qualified Aboriginal teacher in Australia's Northern Territory and was the founder of the Miriam Rose Foundation, a charity advancing educational outcomes in Indigenous communities, as well as Merrepen Arts, an internationally known arts centre. In 1998, Dr Ungunmerr Baumann was appointed as Member of the Order of Australia for her services to Aboriginal education and art, and to the Nauiyu community, and further recognised as 2021 Senior Australian of the Year.
The image, like much of Dr Ungunmerr Baumann's body of work, blends Aboriginal elements with faith traditions. It incorporates symbols of openness and encounter (for example, a hand reaching out to groups of peoples of diverse make-up and colour) as well as symbols of exchange and fusion.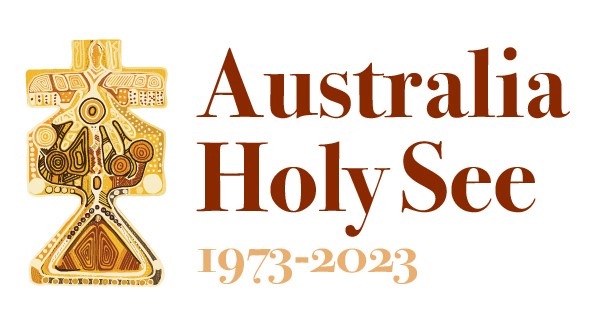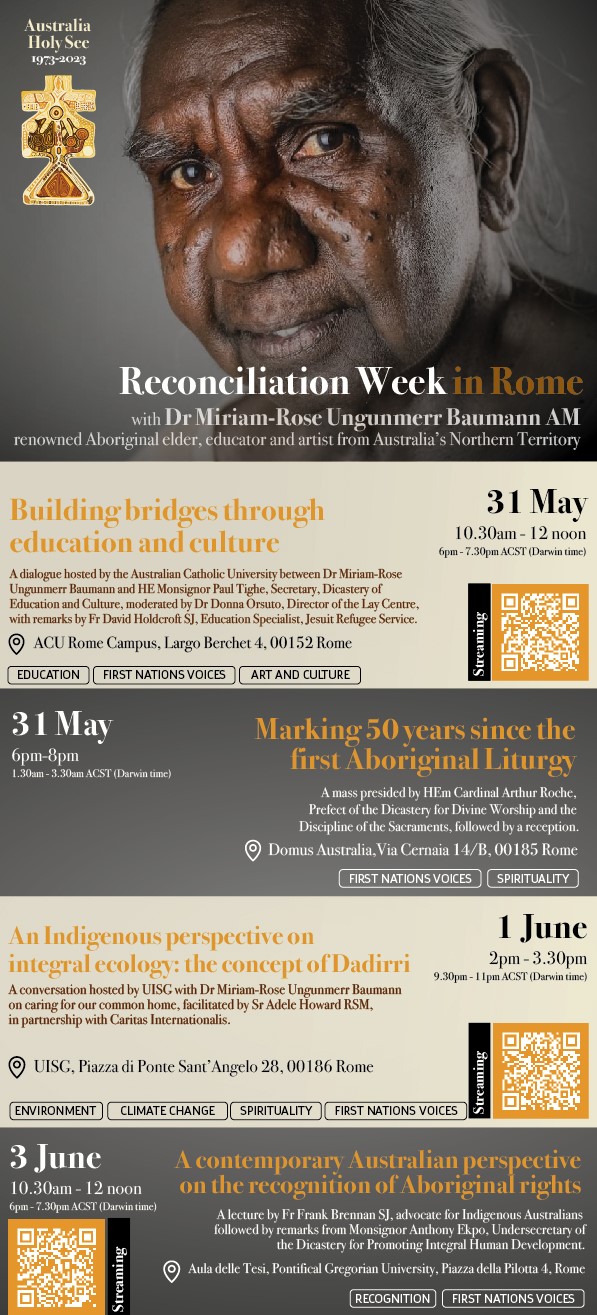 Useful information about visiting the Holy See
Visiting the Vatican - general information on booking various Vatican tours and tickets for events presided by the Pope
💬 Follow us on Twitter - @AusAmbHolySee 💬
Recent events
Please see our Events pages to view the Embassy's activities over the years
22 April 2023 - Earth Day Walk with Australian, US, UK and Irish Embassies & Athletica Vaticana
On 22 April 2023, the Australian Embassy to the Holy See joined the US, UK and Irish Embassies, and Athletica Vaticana on a walk to mark Earth Day and demonstrate our commitment to protecting our common home