Coronavirus (COVID-19)
The health and safety of Australians overseas is our highest priority. The Australian Embassy to Italy's Consular section, due to the COVID-19 pandemic, is not taking public appointments at this time. Their ability to provide some services may be limited. They will continue to prioritise consular services to those in genuine need. If you require urgent assistance, please contact our Consular Emergency Centre, Canberra (Australia): +61 2 6261 3305
.
Welcome to our website
Hello to all and welcome to the Australian Embassy to the Holy See's website.
I am pleased to have been appointed Australia's next Ambassador to the Holy See, the fourth resident Ambassador since the position was established in 2008. I presented my credentials to His Holiness Pope Francis on 27 August 2020, when I officially took up my role as the representative of the Australian Government to the Holy See.
It goes without saying that we are facing turbulent times, with the world still reeling from a devastating pandemic. Now, more than ever, supporting those in need is of critical importance, a key priority that Australia and the Holy See share. Australia has already taken a number of steps, including pivoting our development assistance through our new Partnerships for Recovery. Reinforcing global institutions will also be key, including to advance Australia and the Holy See's broader shared agenda on human rights, conflict resolution and peace building.
As the only resident Ambassador from the Pacific, I hope to be able to give our region another voice in the Vatican. The Pacific is our neighbourhood, our family, and Australia is leading efforts to address our region's key challenges, including on health security and climate change. Our Church Partnerships Program recognises the central role the Church plays in the Pacific (where over 90 per cent of the population identifies as Christian), and supports their capacity to contribute to regional development and community resilience.
During my mandate, we will be celebrating 50 years of Australia-Holy See diplomatic relations – an important milestone, built on the very strong and robust people to people links we share. Over five million Australians identify as Catholics, and our committed lay and religious community is making a difference both in Rome and at home. This year we will also celebrate the tenth year anniversary of the canonisation of Mary MacKillop, Australia's first canonised Saint and a remarkable woman who encapsulates the true spirit of Australia.
Like my predecessors, my mission to the Holy See is to represent modern Australia – our vibrant democracy, indigenous heritage, and multicultural society (30 per cent of Australians are born overseas). I will be doing so as a young woman from a culturally and linguistically diverse background – I was born in Italy, moved with my family to Australia at the age of three, and spent time living in Indonesia growing up. I hope to draw on my experiences to shape the image of Australia and advance our shared priorities with the Holy See.
I will be using both this website and our new Twitter account @ausambholysee to keep you all updated on our work and share snapshots of life as an Ambassador to the Holy See.
HE Ambassador Chiara Porro
Holy See Vacancy
Come and join our small and vibrant team at the Australian Embassy to the Holy See!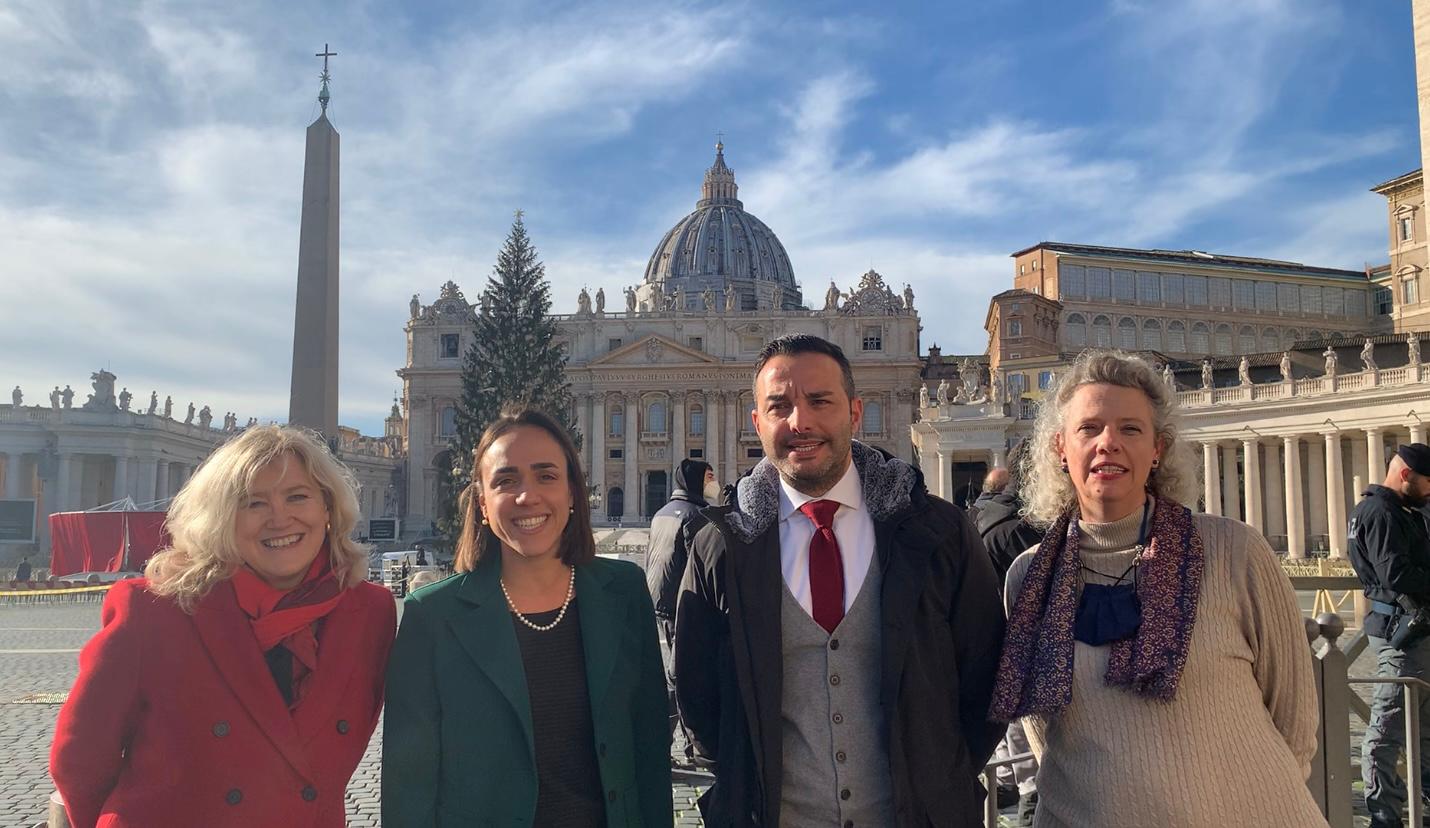 We are looking for a Policy, Events and Research Officer for 12 months. The position is based in Rome and will involve regular outreach with a network of contacts at the Holy See and beyond.
Details can be found here and applications are required by 1 February 2021.
SMARTRAVELLER
Smartraveller has the latest, authoritative travel advice so you can be informed and prepared about overseas travel. Subscribe to receive travel advice updates - by simply supplying your name and email address – straight to your inbox.
You can now also subscribe to the new SMS service - by supplying your mobile number – to receive critical alerts in the event of a crisis overseas.
In a crisis, Smartraveller will activate a crisis page on its website. It will make it easier for you or someone you know to contact the Australian Government if you need help. It will supplement the consular emergency hotline.
Visit www.smartraveller.gov.au to subscribe or connect with Smartraveller on Facebook and Twitter.
HOME AFFAIRS
Need to update your address or passport details? The quickest way to do this through your ImmiAccount!
Alternatively, you can complete a Change of Passport and/or Contact Details form and email it to [email protected]
Recent Events
4 December 2020 - "The Other Marys" MacKillop and Ward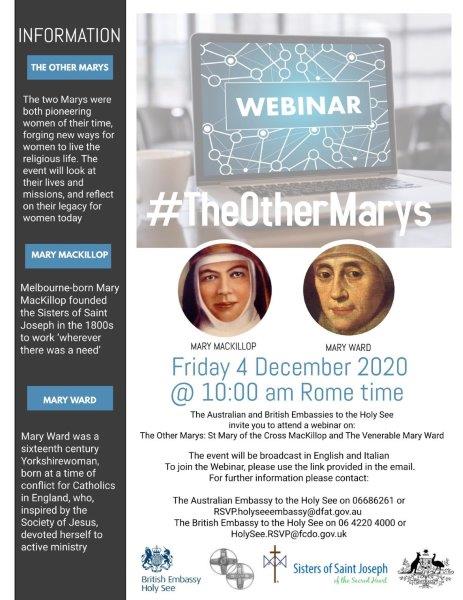 On 4 December, the Australian and British Embassies to the Holy See hosted a webinar
"The Other Marys: St Mary of the Cross MacKillop and The Venerable Mary Ward"
for around 300 participants, drawn from the Roman Curia, Diplomatic Corps, Italian Government, NGOs, academia, Australian and British diaspora and local media.
Melbourne-born Mary MacKillop founded the Sisters of Saint Joseph in the 1800s to work 'wherever there was a need.'
Mary Ward was a sixteenth century Yorkshirewoman, born at a time of conflict for Catholics in England, who, inspired by the Society of Jesus, devoted herself to active ministry.
The two Marys were both pioneering women of their time, forging new ways for women to live the religious life. This event looked at their lives and missions, and reflected on their legacy for women today.
Read the Q&A summary and speeches by our esteemed presenters:
Sr Maria Casey RSJ, Canon Lawyer and final Postulator of the Cause for canonization of Mary MacKillop
Sr Jane Livesey CJ (English Province), General Superior Congregatio Jesu and Sr Noelle Corscadden ibvm, Superior General Institute of the Blessed Virgin Mary - Loreto
Dr Katharine Massam, Academic Dean, Associate Professor of History, University of Divinity
Rev. Sr. Carmen Ros Nortes, Under-Secretary - Congregation for Institutes of Consecrated Life and Societies of Apostolic Life
NAIDOC Week 2020
Pope Francis speaks often about the value of indigenous knowledge. Australia's Indigenous peoples have been caring for our land for 65,000 years. Watch our NAIDOC Week video to hear Aboriginal, Torres Strait Islander and Holy See voices.
17 October 2020 – 10th anniversary of Mary MacKillop's canonisation
St Mary of the Cross MacKillop was canonised in Rome on 17 October 2010, becoming Australia's first canonised Saint. It was an unforgettable day in St Peter's square, full of people, her followers and wellwishers from around the world. Her story is a remarkable one, which resonates even more today. From her courage and perserverance in the face of adversity, to her care and dedication to those on the margins of society, she fought the stereotype of a 'proper sister', focusing instead on where her efforts were most needed, and using education to fight poverty. She was not afraid to speak out, and stand for her convictions. Mary, we hope your story will continue to inspire generations in the years ahead. We have prepared this short video to mark the occasion – watch it in full here - https://youtu.be/FeXTTeWLpqI
27 August 2020 – Commemorating Mary MacKillop and Indigenous Australia while presenting Credentials to HH Pope Francis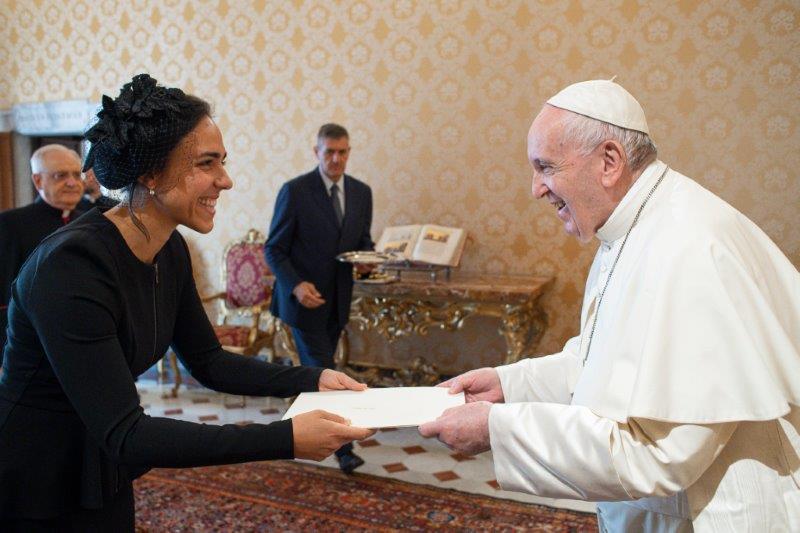 On 27 August 2020, HE Ambassador Chiara Porro was pleased and honoured to meet His Holiness Pope Francis when she presented her Letters of Credence. Ambassador Porro took advantage of the occasion to commemorate the 10th anniversary of the canonisation of St Mary of the Cross MacKillop, who was canonised as Australia's first Catholic Saint on 17 October 2010. Ambassador Porro presented His Holiness with a relic of St Mary MacKillop, a small piece of one of the habits that St Mary wore. The Ambassador also celebrated Australia's Indigenous culture by presenting Pope Francis with a book of poetry from Aboriginal and Torres Strait Islander youth entitled 'Homeland Calling'.
Useful information about visiting the Holy See
Visiting the Vatican - general information on booking various Vatican tours and tickets for events presided by the Pope