WELCOME TO THE AUSTRALIAN EMBASSY TO THE HOLY SEE
Buongiorno! Bonjour! (did you know the Holy See's official diplomatic language is French?) Hello!
Welcome to the official website of the Australian Embassy to the Holy See. I was honoured to take up my role as Australia's first resident female career Ambassador and third since the position was established in 2008. Here I am introducing my husband, Dr Adrian Hitchman to His Holiness Pope Francis following presentation of credentials on 8 September 2016. Listen to my credentials' interview with the Vatican Radio here.
The Holy See is both a state recognised in international law and the governing body for the Catholic Church of 1.3 billion. As Australia's official representative to the Holy See under the Vienna Convention on Diplomatic Relations, my focus is on the state to state relationship. Over five million Australians identify as Catholics. Many of them greeted the three Popes who have visited Australia: Paul VI in 1970, John Paul II in 1986 and 1995, and Benedict XVI in 2008 for World Youth Day in Sydney, which attracted TV and internet audiences of more than a hundred million each. Over 10,000 of them witnessed from St Peter's Square in Vatican City the canonisation of Mary MacKillop as Saint Mary of the Cross on 17 October 2010. In Rome, too, many welcomed Benedict XVI as he opened the Australian Catholic Church's pilgrimage centre, Domus Australia, in 2011.
My mission to the Holy See is to represent modern Australia – our vibrant democracy, indigenous heritage, multicultural society, activist foreign policy, and committed lay and religious making a difference in Rome and at home. See Forthcoming Events and Recent Events for further information on our activities. We hope you can join us!
With warm wishes
Melissa Hitchman
Australian Ambassador to the Holy See
Australia launches 2017 Foreign Policy White Paper

On 23 November 2017 Australian Prime Minister The Hon Malcolm Turnbull MP launched the 2017 Foreign Policy White Paper. It is the Australian Government's first comprehensive Foreign Policy White Paper in 14 years. The 2017 Foreign Policy White Paper is essential to our future security and prosperity and it affirms an outward-looking Australia that is fully engaged with the world. Find out more #FPWhitePaper
Australia elected to the UN Human Rights Council 2018-2020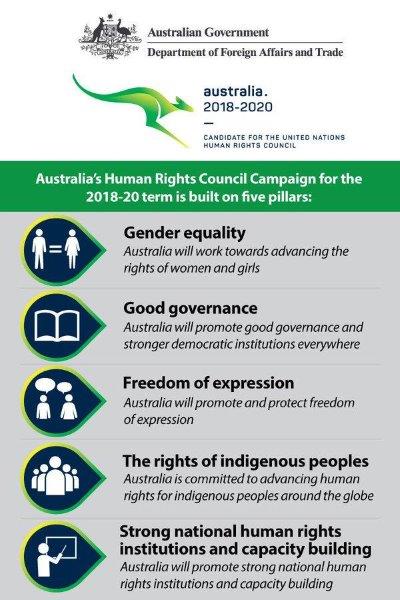 The Honourable Julie Bishop MP, Minister for Foreign Affairs, released a statement on 17 October 2017 to announce Australia's election by a majority of United Nations member states to serve on the Human Rights Council, the world's peak body for promoting and protecting human rights.
Australia took its seat on 1 January 2018 for a three-year term and is ready to work closely with other countries and civil society to protect and advance human rights around the world. It is in Australia's national interest to shape the work of the Council and uphold the international rules-based order. Respecting fundamental human rights and freedoms, and building them into the fabric of a society, makes Australia and the world safer and more secure.
Find out more #Oz4HumanRights
6 September 2018 Reception for the new Commissioners on the Pontifical Commission for the Protection of Minors
11 September 2018 Australian Catholic University's Health and Education Symposia Welcome Reception
19 September 2018 Australian Girls Choir performance
25 October 2018 MIKTA Event - Save-the-Date - details coming soon
17 January 2019 Australia Day event - Yes, we will celebrate early next year with an Australian School Group Concert!
8 March 2019 International Women's Day event
23 July 2018 – Reaffirming Australia-Holy See Collaboration on the Sustainable Development Goals with a Ministerial Visit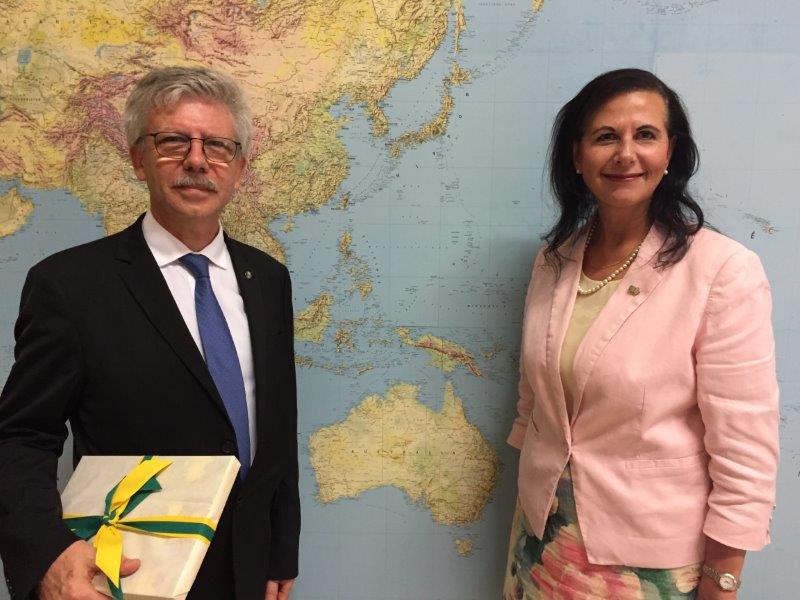 Minister for International Development and the Pacific Senator the Hon Concetta Fierravanti-Wells visited the Holy See on 23 July. She met with Caritas Internationalis Secretary General Michel Roy to discuss Australia-Holy See collaboration towards realisation of the Sustainable Development Goals, or Agenda 2030. The Caritas Internationalis Confederation is one of the world's largest humanitarian networks, with over 165 member agencies working in more than 200 countries and territories. Caritas Australia, a member of Caritas Internationalis, is a fully accredited Australian Non-Government Organisation (NGO) under the Australian NGO Cooperation Program (ANCP) and has been accredited since 1994. In 2018-19, the Australian Government is funding Caritas Australia by $7,844,107. Minister Fierravanti-Wells and Secretary General Roy discussed shared projects in the Pacific, such as combatting domestic violence, where Australia is stepping up its engagement under the Foreign Policy White Paper released in November 2017. The Minister briefed on Australia's promotion of social responsibility by corporates in the extractive industry, opportunities under the Pacific Labour Scheme and Australia's commitment to meeting its Paris Agreement reduction of emissions by 5 per cent below 2000 by 2020. She thanked the Holy See for His Holiness Pope Francis' audience with Pacific Island Forum Leaders in November 2017 en route to the 23rd UN Conference of the Parties to the UN Convention on Climate Change and his statement of support for Fiji's Presidency. The Minister and Secretary General considered the legal status of Exclusive Economic Zones (EEZs) around small island states facing extinction due to global warming, melting icecaps and rising sea levels. They also exchanged views on the Rohingya crisis in Myanmar and Bangladesh, including the response of the region and international community. The Minister's visit followed the recent successful visit of the Governor-General of Australia Their Excellencies General The Honourable Sir Peter Cosgrove AK MC (Retd) and Lady Cosgrove.
11 July 2018 – Welcoming ACU's second Indigenous "Conaci Scholar" to Rome during NAIDOC Week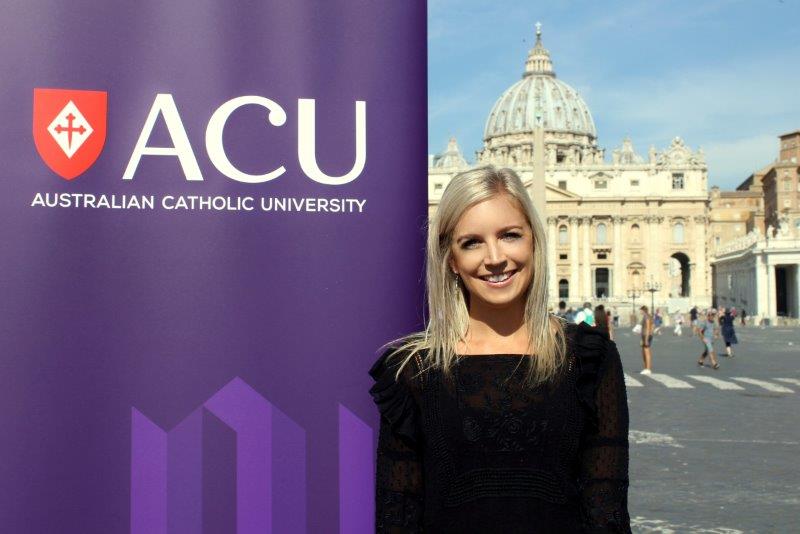 The Australian Catholic University (ACU), Australian Embassy to the Holy See and Australian Embassy to Italy hosted a ceremony during NAIDOC Week to announce the second Francis Xavier Conaci Scholar, Kate Gavin. Around 100 guests attended. A nursing student from Noosa studying at ACU's Brisbane Campus, Kate traces her heritage to the Kimberley region of Western Australia. Two generations of her family belong to the Stolen Generations. They inspired her by reconnecting with their people and country decades after separation to rebuild their lives. Kate follows in the footsteps of the Indigenous Australian youth after whom the Scholarship is named. In 1848 Francis Xavier Conaci travelled from New Norcia, also in Western Australia, to study with the Benedictines in Italy. Sadly, he died in 1853 and is believed to be buried in Rome. The Scholarship gives contemporary meaning to Conaci's journey by enabling an ACU Aboriginal or Torres Strait Islander student to study in Rome as he himself did 165 years ago. Kate undertook a familiarisation program in Rome for the Scholarship, paying her respects to Conaci, connecting with his spirituality through Australian Benedictines Abbot General Michael Kelly OSB in Rome and Abbot John Herbert OSB from New Norcia (Fr Herbert's message accessible here), and giving media interviews. Listen here to her reflections on what the opportunity means to her. ACU Director of the First Peoples and Equity Pathways, Jane Ceolin, said she was pleased that a female Aboriginal student was chosen this year in light of the NAIDOC theme for 2018, 'Because of Her, We Can!' The Australian Embassies to the Holy See and to Italy congratulate Kate on her achievement and thank ACU for its generosity in funding the Scholarship.
25 June 2018 - Strengthening the Australia-Holy See relationship through a Head of State Visit
During a visit to the Holy See on 25 June 2018, His Holiness Pope Francis received His Excellency General the Honourable Sir Peter Cosgrove, AK MC (Retd), Governor-General of the Commonwealth of Australia, and Her Excellency Lady Cosgrove. Following the Papal Audience, Their Excellencies met with His Eminence Cardinal Pietro Parolin, Secretary of State (Prime Minister equivalent). They then visited the Australian Catholic University (ACU) / Catholic University of America (CUA) Rome Campus and met with Vice President Rev Anthony Casamento and over eighty visiting Australian academics and students, in recognition of His Excellency's former role as ACU Chancellor. The morning's program concluded with a Prayer Service celebrated by the Right Rev Michael Kelly OSB Silv, Abbot General of the Order of St Benedict, in commemoration of Indigenous Australian Francis Xavier Conaci at the Basilica of St Paul's Outside the Walls, where they were welcomed by Archbpriest His Eminence Cardinal James Harvey and Abbot Roberto Dotta. Their Excellencies completed their Holy See program with a reception at the residence of the Australian Ambassador to the Holy See, where they met with members of the Curia, Australian diaspora, Pontifical Universities and faith-based NGOs.
29 May 2018 - Celebrating Reconciliation Week with the Launch of the Australia Catalogue
The Australian Embassy to the Holy See co-hosted the launch of the Australia Catalogue in the Vatican Museums on Tuesday 29 May, 2018. The Catalogue is the result of a five-year collaboration between the Vatican Anima Mundi Museum, National Museum of Australia, Australian National University, Australian Institute of Aboriginal and Torres Strait Islander Studies (AIATSIS) and Indigenous communities. It documents Australia's Indigenous history and culture and includes artefacts held in the Anima Mundi Museum's Australia Collection. The Catalogue was introduced by Director of the Vatican Anima Mundi Museum Fr Nicola Mapelli and presented by President of the Governorate and President of the Pontifical Commission for the Vatican City State Cardinal Giuseppe Bertello, Australian Ambassador to the Holy See HE Melissa Hitchman, Director of the Vatican Museums Dr Barbara Jatta, CEO of AIATSIS Mr Craig Richie, Australian Editor Ms Katherine Aigner and Tiwi Islands artist Mr Pedro Wonaeamirri. Holy See Secretary of State Cardinal Pietro Parolin, Secretary of the Pontifical Council for Culture HE Mons Paul Tighe and Fr Stephen Hackett of the ACBC General Secretariat also attended, along with 250 guests drawn from the diplomatic corps, academia, NGOs and Australian diaspora. Indigenous artist Chris Williams followed the ceremony with a didgeridoo performance. A reception followed. The Catalogue is one in the Anima Mundi Museum's series on Indigenous culture across the world. The Launch occurred during Australia's Reconciliation Week, marking two major events in Australia's history. At the 27 May 1967 referendum, non-Indigenous Australians voted overwhelmingly to alter the Australian Constitution to allow the Australian Government to make laws for Indigenous Australians and include them in the census. On 3 June 1992, the High Court of Australia ruled on the rights of Indigenous Australians to native title or historic ownership of the Australian continent. Reconciliation Week is therefore a time to recognise Australia's Indigenous culture and foster positive efforts toward further reconciliation. Prime Minister Malcolm Turnbull has welcomed the Catalogue for those unable to visit the Museum in-person as a "remarkable guide" to the "Aboriginal and Torres Strait Islander custodians who have cared for our country for over 60,000 years…and their elders who continue to hold the knowledge of their rich and diverse cultures".
25 May 2018: Showcasing Australian expertise at the Venice Architecture Biennale Holy See Pavilion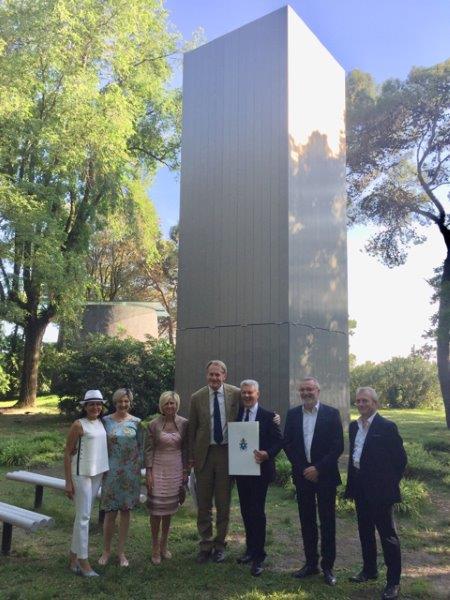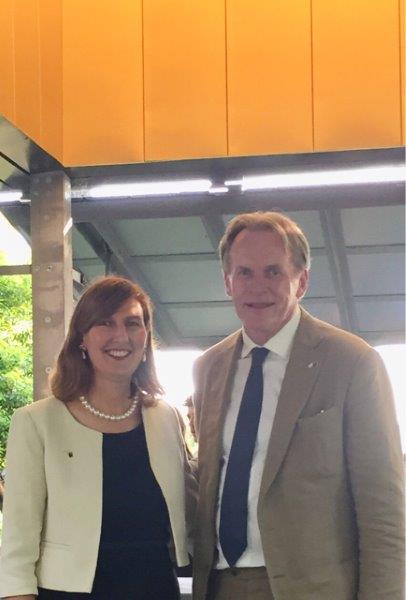 HE Melissa Hitchman attended the opening of the inaugural Venice Architecture Biennale Holy See Pavilion on 25 May 2018 (photo 2). Award-winning Melbourne-based architect Sean Godsell featured as one of ten international architects selected by the Holy See to design for its Vatican Chapels on the island of San Giorgio Maggiore. Based on the 1920 Woodland Chapel concept of acclaimed Swedish architect Erik Gunnar Asplund, and conceived by Franceso Dal Co. Electa, the chapel was built by Maeg Zintek based in Nice (photo 1). The Pavilion was opened by President of the Pontifical Council for Culture, His Eminence Cardinal Ravasi, and will remain open to the public until 25 November 2018. Tickets are available online. The Embassy congratulates Sean Godsell and all involved in the project.
10 May 2018 - Exploring cultural diplomacy with Università Cattolica

The Australian Ambassadors to the Holy See and Italy - Their Excellencies Ms Melissa Hitchman and Dr Greg French - briefed students from the Universita Cattolica's Cultural Diplomacy Master's Course on 10 May 2018 on the promotion of Australian cultural diversity through foreign policy as outlined in the 2017 Foreign Policy White Paper (pp109-115).
26 April 2018 - Supporting Sant'Egidio's work with migrant communities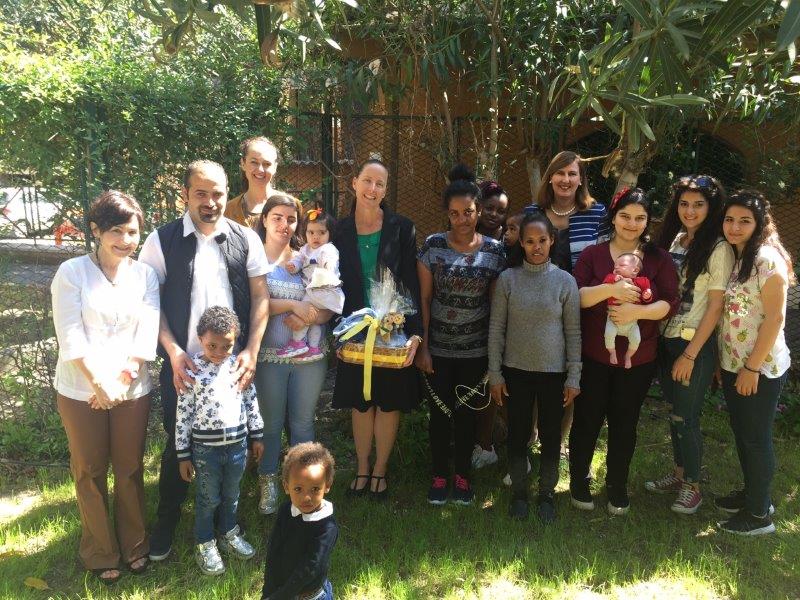 Australian Federal Police Liaison Officer Bianca Warland (centre of photo, holding gift basket), visiting from The Hague and accompanied by colleagues from the Australian Embassy to the Holy See (including HE Ambassador Hitchman (fourth adult from the right) and Deputy Head of Mission Alison Edye (third adult from the left)), gifted Uniforms4Kids to migrant students from the Sant'Egidio Community Centre in Rome on 26 April 2018. They were gratefully received by, from left to right: Centre Coordinator Monica Attias, Gandj and Mariam (holding their daughter Stella), Deborah and Johnny in front of them, Awet (Deborah's mother), Sara (holding her daughter Joy), Wegatha (Johnny's mother), Tamar (holding her baby Maria), Susannah and Jamila. The clothing is repurposed from the AFP, Border Force and Australia Zoo for those in need. The Embassy thanks Sant'Egidio for its collaboration.
23 April 2018 - Fostering Church-State-Indigenous Collaboration, New Norcia WA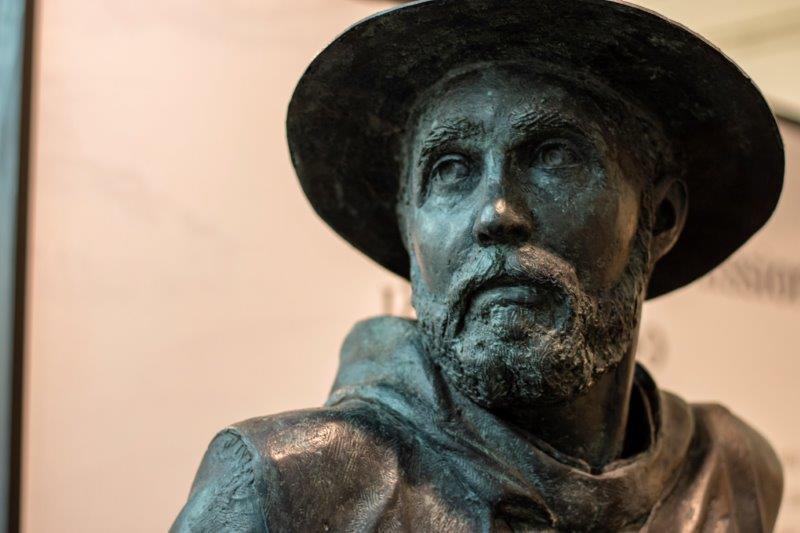 New Norcia Abbot John Herbert welcomed HE Melissa Hitchman to the monastic community on 23 April 2018 to open the Museum upgrade made possible by a grant from WA's Regional Visitor Centre Sustainability Grant. Curator Joy Legge and Collections Manager Marina Baker showed Ambassador Hitchman the exhibits dating to 1900 in the upgraded gallery. Parish representative Keith Hunt, Board representative Jan Stagbouer, Oblates Peter and Lucette Quinlan, and Indigenous representatives Lester Jacobs and May Taylor celebrated with lunch, a recital by Fr Robert Nixon and a tour of the community facilities. Ambassador Hitchman thanks all involved for their hospitality and congratulates the New Norcia Benedictine Community, founded by Dom Rosendo Salvado OSB, on preserving its contribution to Church-State-Indigenous collaboration for over 170 years.
23 April 2018 - Forging educational opportunities with the Holy See, Notre Dame University, Fremantle WA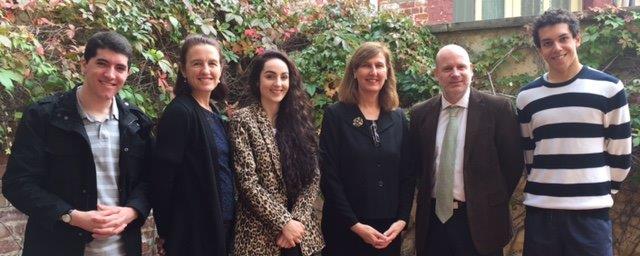 Notre Dame University Vice Chancellor Professor Celia Hammond and VC Chief of Staff Dr Martin Drum (photo: second from left and second from right with students Rob Abrahams, Yasmin Martino and Henri Cameron) welcomed HE Melissa Hitchman to Notre Dame University's Fremantle campus on 23 April 2018. Ambassador Hitchman briefed students and colleagues on the Australia-Holy See bilateral relationship. They - with Deputy Vice Chancellor Corporate Mr Peter Tranter, Pro Vice Chancellor Professor Peta Sanderson and Pro Vice Chancellor and Head of Campus Professor Selma Alliex - discussed opportunities for collaboration with Pontifical universities in Rome. Ambassador Hitchman thanks Notre Dame for arranging the visit and looks forward to growing the relationship.
19 April 2018 - Promoting an understanding of Islam, Canberra ACT

The National Museum of Australia, Vatican Anima Mundi Museum and Shajar Museums Authority launched the 'That you may know each other' exhibition in Canberra on 19 April 2018. Vatican Museums Director Fr Nicola Mapelli (pictured) was welcomed by NMA Director Dr Matthew Trinca. HE Melissa Hitchman attended, along with many other guests drawn from the Australian clerical and religious, diplomatic community and academia. See further advice on the exhibition here.
18 April 2018 - Combatting Modern Slavery, Melbourne VIC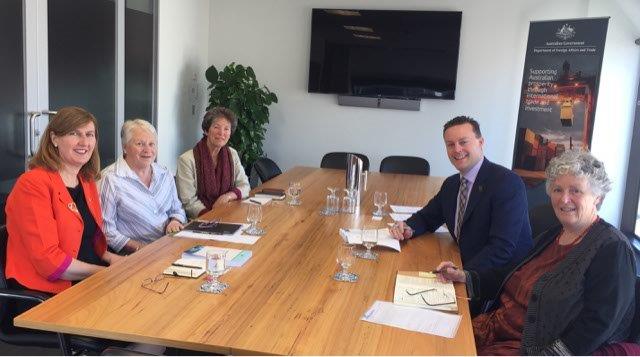 HE Melissa Hitchman met Chair of the Foreign Affairs and Aid Sub-Committee of the Joint Committee on Foreign Affairs, Defence and Trade's Mr Chris Crewther MP, Executive Officer of Australian Catholic Religious Against Trafficking in Humans (ACRATH) Christine Carolan and colleagues in Melbourne on 18 April 2018. Mr Crewther briefed the group on Hidden in Plain Sight: the Inquiry into the Modern Slavery Act in Australia. Read the Inquiry's report here. The Embassy works with ACRATH (a member of UISG), the Sant'Egidio Community, Santa Marta Group, Department of Home Affairs, the Ambassador for People Smuggling and Human Trafficking, Australian Federal Police, Walk Free Foundation and others on combatting modern slavery.
18 April 2018 - Supporting Australian cultural diplomacy, Melbourne VIC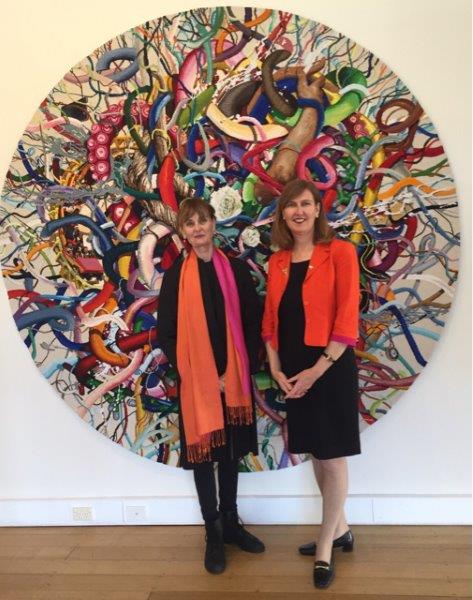 HE Melissa Hitchman met Director of the Australian Tapestry Workshop Antonia Syme in Melbourne on 18 April 2018. The two exchanged advice on the history and use of the tapestry displayed at the residence of the Australian Ambassador to the Holy See: Kunawarritj to Wajaparni, 2011. The work is part of the Tapestry Foundation's Australian Embassy Collection, which places tapestries by Indigenous artists throughout the world. It is featured on this website. It was designed by artists Jeffrey James, Charlie Wallabies Tjungurrayi, Patrick Tjungurrayi, Richard Yukenbarri Tjakamarra, Clifford Brooks and Putuparri Tom Lawford and woven by Sue Batten, Chris Cochins, Milly Formby, Pamela Joyce and Emma Sulzberger. Ambassador Hitchman and Ms Syme are pictured here with Gordian Knot, 2016, by Keith Tyson.
17 April 2018 - Strengthening educational links with the Holy See, Sydney NSW

HE Melissa Hitchman was welcomed to Campion College Sydney by College President Dr Paul Morrissey (in the red tie) and Dean of Students Dr Luciano Boschiero (far left) on 17 April. She briefed students on the Australia-Holy See bilateral relationship in preparation for their visit to Rome in July. The Embassy thanks Campion College for its hospitality.

14 April 2018 - Fostering understanding of the Australia-Holy See bilateral relationship at Holy Spirit Seminary, Banyo, QLD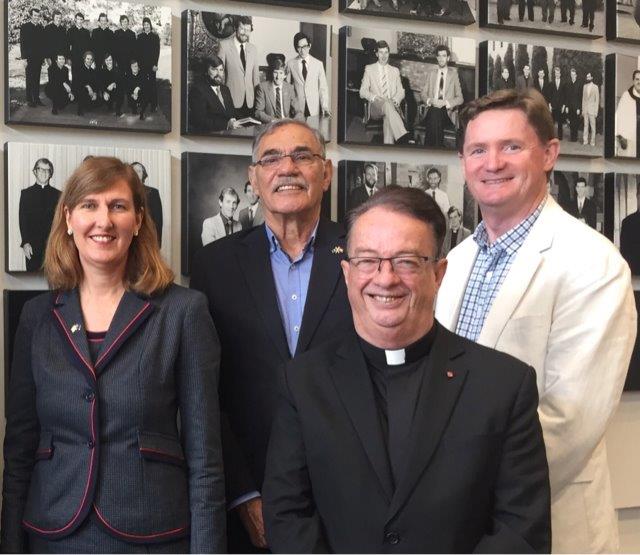 HE Melissa Hitchman visited the Holy Spirit Seminary at Banyo, Queensland, in order to brief seminarians (photo 1), staff, Australian Catholic University colleagues and Brisbane Archdiocesan visitors (photo 2: Archdiocese of Brisbane Murri Ministry member Mr David Miller, Archdiocese of Brisbane Vicar General Monsignor Peter Meneely and ACU Pro Vice Chancellor and Campus Head Professor Jim Nyland) on the role of both the Ambassador and the Embassy to the Holy See, Australia's diplomatic relations with the Holy See, and the foreign policy agenda that both share. She responded to questions and met with attendees following her briefing. Ambassador Hitchman was pleased to have this opportunity, as part of her program of midterm consultations in Australia.
11-17 April 2018 - Saluting our region at the Assembly of the Federation of Catholic Bishops Conferences of Oceania, Port Moresby, PNG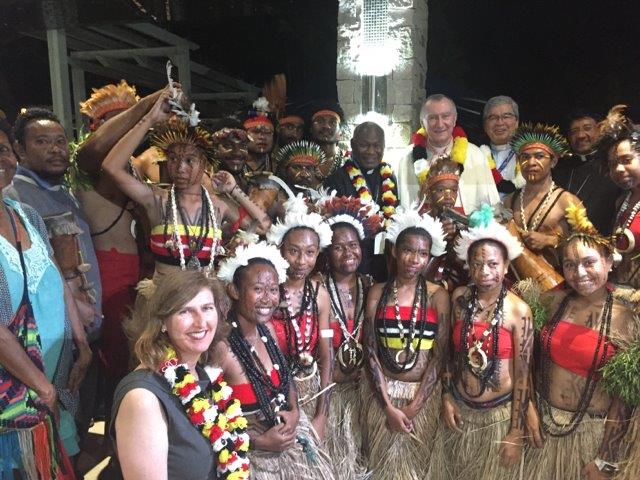 Villagers of Hanuabada, St Michael's Parish, welcomed Holy See Secretary of State (Prime Minister-equivalent) His Eminence Cardinal Pietro Parolin (top right in white), 70 bishops from the region and guests including HE Melissa Hitchman (bottom left) to the Assemply of the Federation of Oceania Catholic Bishops Conferences in Port Moresby, Papua New Guinea, hosted by FCBCO President His Eminence Cardinal John Ribat MSC (left of Cardinal Parolin) from 11-17 April 2018. Representatives in traditional dress from provinces throughout Papua New Guinea participated.
19 March 2018 - Promoting the voice of youth to the Holy See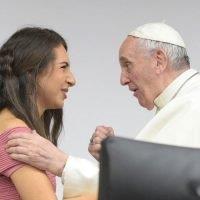 Australian Catholic Bishops Conference (ACBC) representative to the pre-synod gathering of youth in the Holy See, Angela Markas, addressed His Holiness Pope Francis on 19 March of the range of issues of concern to Australian youth. Ms Markas and the ACBC's other representative, Australian seminarian in Rome Jonathan Vala, joined youth from across the globe to prepare for the Synod of Bishops on Youth in October 2018. The Australian Embassy congratulates them both. Read the text of Ms Markas' speech here
8 March 2018 – Celebrating Indigenous Culture on International Women's Day with 2017 Senior Australian of the Year Sr Anne Gardiner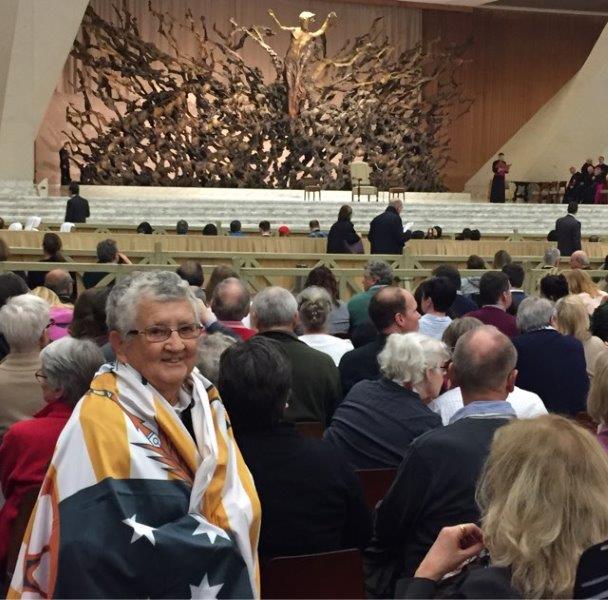 In recognition of International Women's Day 2018, the Australian Embassies to the Holy See and Italy hosted an inspiring morning with guest speaker and 2017 Senior Australian of the Year, Sister Anne Gardiner (here at the General Papal Audience draped in the Tiwi Islands Flag). A Daughter of Our Lady of the Sacred Heart (OLSH), Sister Anne is known for her work on the remote Bathurst Island in the Northern Territory with the Tiwi community. She has devoted her life to enhancing opportunities for the Tiwi people and preserving Indigenous language and culture. As an exemplary model of Church-State-Indigenous collaboration, Sister Anne shared her experiences in working in a cross-cultural context and the importance of leadership for Indigenous women in particular. Both Ambassadors addressed the audience and provided their own insights into the importance of Women in Leadership and the need for Male Champions for Change. Around 100 guests attended from the Diplomatic Corps, the Roman Curia and Italian government, the Australian religious and lay communities, international organisations and media. Guests also enjoyed an opportunity for networking and further dialogue at the morning tea following. The Australian Embassies thank Sister Anne for sharing her experience, and the National Australia Day Council of the Northern Territory, Australian Catholic University, Sydney Swans, Archdiocese of Sydney, Tiwi Islands Communities and countless private donors for their support in facilitating Sr Anne's visit to Rome for this event. See Vatican News' interview here.
13 February 2018 - Honouring Australian feminist, activist, theologian and author Rosemary Goldie AO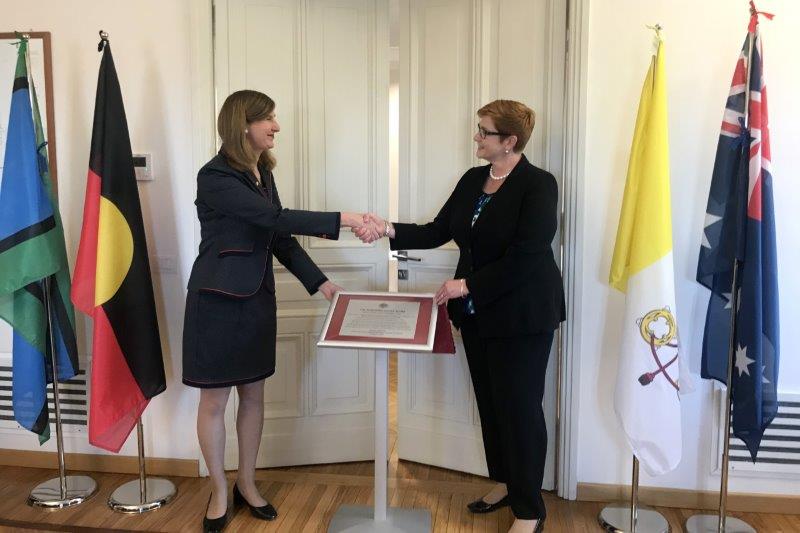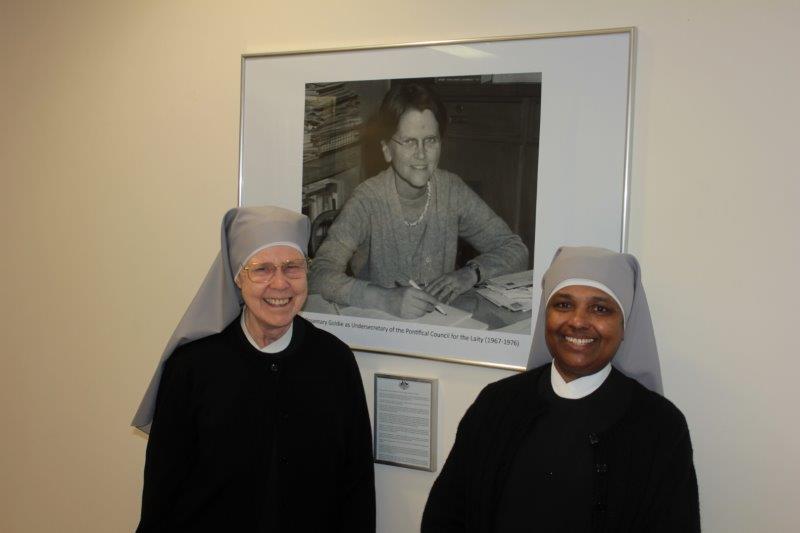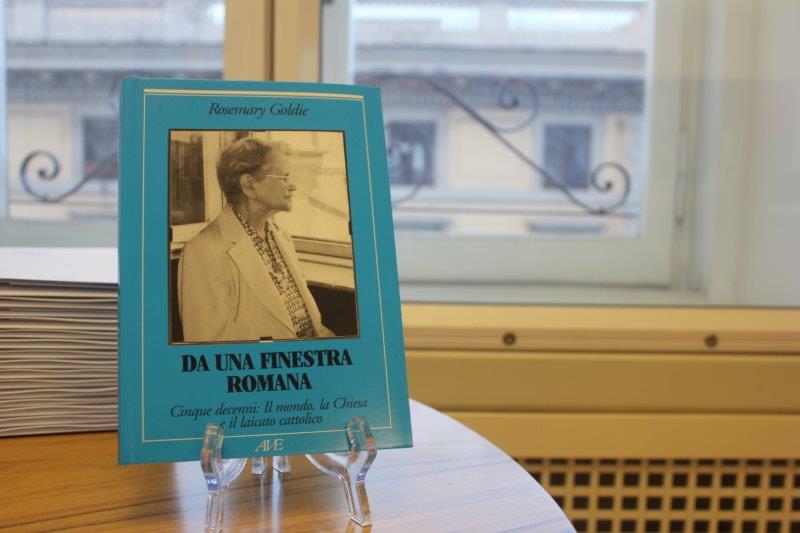 As part of the Australian Government's Women in Leadership agenda, the Minister for Defence, Senator the Honourable Marise Payne, opened the Embassy's Rosemary Goldie Room on 13 February 2018 (photo 1). Goldie was an Australian feminist, activist, theologian and author. As Undersecretary of the Pontifical Council for the Laity (1967-1976), she made history as the first woman to hold an official post of authority in the Roman Curia (photo 2). Guests attended from the Holy See (Undersecretary of the Dicastery for the Promotion of Integral Human Development Dottoressa Flaminia Giovanelli, Head of the Office of Women in the Dicastery for Laity, Family and Life Dottoressa Marta Rodriguez and the Secretariat of State's Francesca di Giovanni), diplomatic corps (Ambassadors from Georgia, Peru, Ireland, the UK and Benin), academia (including ACU Pro-Chancellor Julien O'Connell), church (Little Sisters of the Poor Srs Imelda Magee and Jacqueline Welisarage, photo 2) and media (National Catholic Reporter's Joshua McElwee and The Tablet's Christopher Lamb). Two gathered knew and worked with her: Undersecretary of the Dicastery for Promoting Integral Human Development Dottoressa Flaminia Giovanelli and the Ambassador for Benin HE Agnes Avognon Adjaho. Rosemary Goldie's life is recalled through her own hand in From a Roman Window (photo 3). In 1990, Goldie was made an Officer of the Order of Australia for 'service to religion and to international relations'. On her death in Sydney in 2010, aged 94, the Pontifical Council for the Laity declared Goldie 'a protagonist for five fruitful decades of the contemporary historical movement of promotion of the laity who left a memorable and very dear trace…for…her competent and untiring service in the Roman Curia'. The Australian Embassy to the Holy See is delighted to honour Rosemary Goldie AO and her contribution to church-state relations as a woman in leadership.
1 February 2018 - Promoting Australia's Foreign Policy White Paper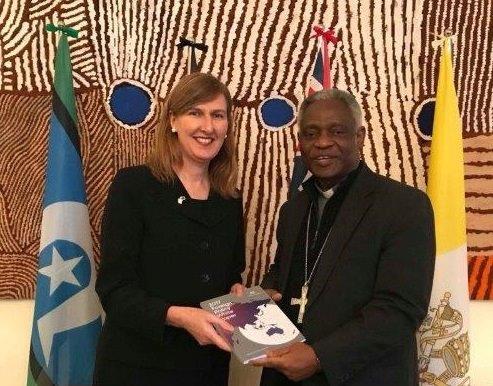 Australian Ambassador to the Holy See HE Melissa Hitchman passed a copy of Australia's Foreign Policy White Paper released in November 2017 by Australian Prime Minister The Hon Malcolm Turnbull MP to President of the Dicastery for Promoting Integral Human Development His Eminence Cardinal Peter Turkson on 1 February 2018. See #FPWhitePaper


1 February 2018 - Safeguarding biodiversity and food security through innovation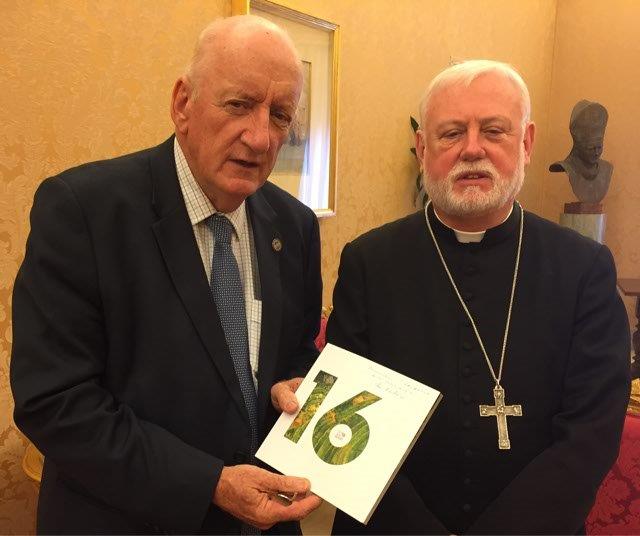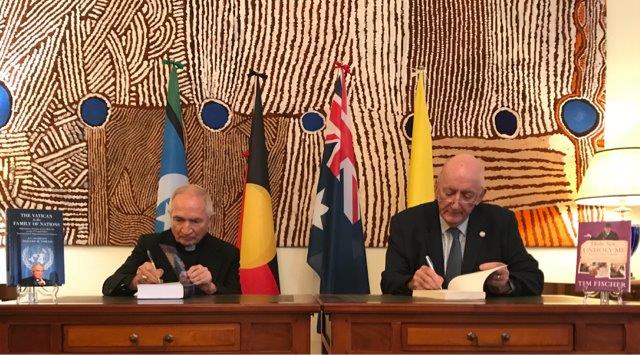 Chair of the Board of the 145 member nation not-for-profit Crop Trust, The Hon Tim Fischer AC, briefed Secretary for Relations with States (Holy See Foreign Minister equivalent) HE Archbishop Paul Gallagher (Photo 1) on 1 February 2018 on the Crop's Seed Vault in Svalbard, Norway, which is safeguarding biodiversity and food security against conflict, disease and climate change. During his visit to the Holy See, Mr Fischer and the Dicastery for Promoting Integral Human Development Secretary HE Archbishop Silvano Tomasi exchanged memoirs: Holy See, Unholy Me! and The Holy See and the Family of Nations: Diplomatic Actions of the Holy See at the UN (Photo 2)
26 January 2018 - Celebrating Australia Day

The Australian Embassy to the Holy See and Domus Australia co-hosted a record number of guests on 26 January 2018 to celebrate Australia's National Day. Domus Australia Rector Monsignor John Boyle (Photo 2) and Australian Ambassador to the Holy See HE Melissa Hitchman thanked HE Archbishop of Sydney Anthony Fisher OP (Photo 1 - with The Hon Julia Gillard AC) as principal celebrant to a preceding mass in the St Peter Chanel Chapel. Australian Catholic University Indigenous Health and Culture lecturer Ms Colleen Kelly read an Indigenous Thanksgiving Prayer at the following reception. Guests included the 27th Prime Minister of Australia and Chair of the Board for the Global Partnership for Education The Honourable Julia Gillard AC, Holy See Secretary for Relations with States (Foreign Minister equivalent) HE Archbishop Paul Gallagher (Photo 3 - 2nd from left), Holy See Assessor for General Affairs (Deputy Interior Minister equivalent) Monsignor Paolo Borgia, Holy See Undersecretary for Relations with States (Deputy Foreign Minister equivalent) Monsignor Antoine Camilleri (Photo 3 - right) and Holy See Chief of Protocol Monsignor Jose Bettencourt, as well as others from the Curia, Holy See diplomatic corps, academia, NGOs, media, and the Australia diaspora in and around the Holy See and Italy. The Australian Embassy to the Holy See thanks all for their generous support.
10 January 2018 - Women Ambassadors welcoming US Ambassador to the Holy See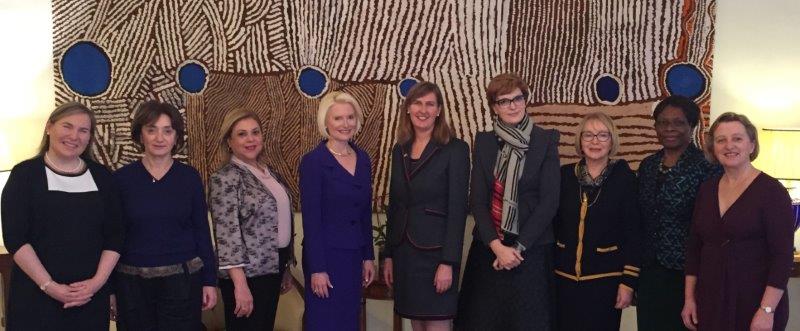 HE Melissa Hitchman, along with the other nine resident women Ambassadors currently accredited to the Holy See, welcomed US Ambassador to the Holy See, HE Callista Gingrich on 10 January 2018. Pictured L-R are HE Emma Madigan, Ireland; HE Tamara Grdzelidze, Georgia; HE Miroslava Rosas Vargas, Panama; HE Callista Gingrich, USA; HE Melissa Hitchman, Australia; HE Slavica Karacic, Bosnia-Herzegovina; HE Tetyana Izhevska, Ukraine; HE Agnes Avognon Adjaho, Benin and HE Sally Axworthy MBE, UK. HE Annette Schavan of Germany and HE Elvira Velasquez Rivas-Plata of Peru sent good wishes. All exchanged views on prosecuting respective national interests with the Roman Curia, including leveraging the resources of pontifical universities, national colleges, and diaspora.
Useful information about visiting the Holy See
Visiting the Vatican - general information on booking various Vatican tours and tickets for events presided by the Pope