WELCOME TO THE AUSTRALIAN EMBASSY TO THE HOLY SEE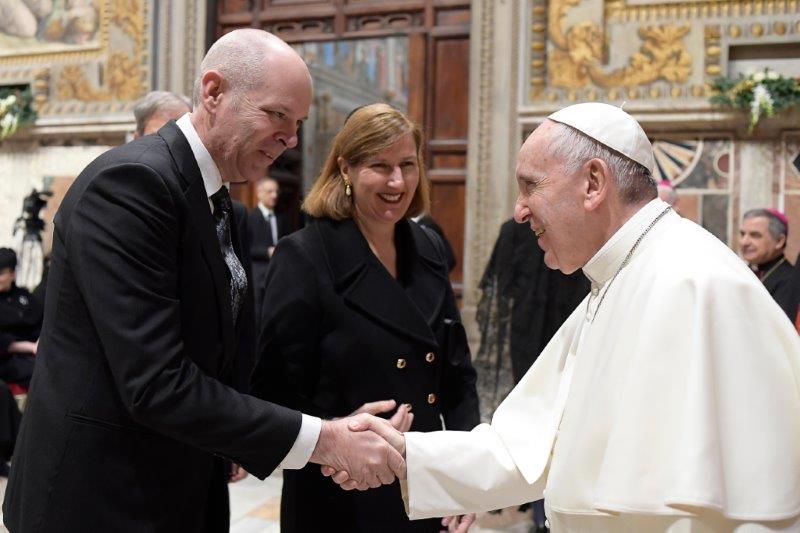 Buongiorno! Bonjour (did you know the Holy's See's official language is French?) Hello!
Welcome to the official website of the Australian Embassy to the Holy See. I was honoured to take up my role as Australia's first resident female career Ambassador and third since the position was established in 2008. Here I am introducing my husband, Dr Adrian Hitchman to His Holiness Pope Francis following presentation of credentials on 8 September 2016. Listen to my credentials' interview with the Vatican Radio here.
The Holy See is both a state recognised in international law and the governing body for the Catholic Church of 1.3 billion. As Australia's official representative to the Holy See under the Vienna Convention on Diplomatic Relations, my focus is on the state to state relationship. Over five million Australians identify as Catholics. Many of them greeted the three Popes who have visited Australia: Paul VI in 1970, John Paul II in 1986 and 1995, and Benedict XVI in 2008 for World Youth Day in Sydney, which attracted TV and internet audiences of more than a hundred million each. Over 10,000 of them witnessed from St Peter's Square in Vatican City the canonisation of Mary MacKillop as Saint Mary of the Cross on 17 October 2010. In Rome, too, many welcomed Benedict XVI as he opened the Australian Catholic Church's pilgrimage centre, Domus Australia, in 2011.
My mission to the Holy See is to represent modern Australia – our vibrant democracy, indigenous heritage, multicultural society, activist foreign policy, and committed lay and religious making a difference in Rome and at home. See Forthcoming Events and Recent Events for further information on our activities. We hope you can join us!
With warm wishes
Melissa Hitchman
Australian Ambassador to the Holy See
26 July 2017 Welcome to ACU students and academics studying at the ACU/CUA Rome Centre
Dates TBC Australian Indigenous Catalogue Launch (Collaboration of the Vatican Ethnological
Museum and the Australian National University) in Australia and Rome
20 November 2017 Catholic Healthcare Australia/Australian Catholic University reception
6 July 2017 – Indigenous student wins Rome scholarship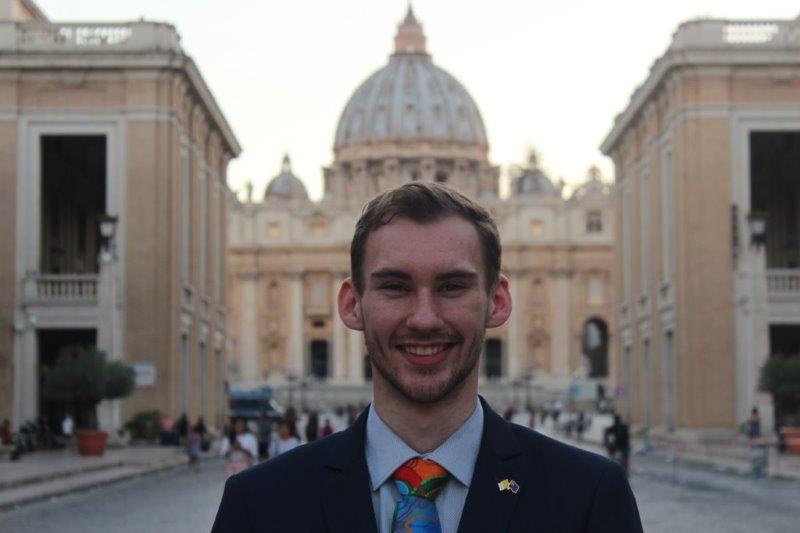 Nathan Pitt is the inaugural winner of the Francis Xavier Conaci scholarship which will assist him to study at the Australian Catholic University (ACU) Rome Centre this July as part of his International Core Curriculum studies at ACU's Brisbane Campus. Nathan is an Aboriginal student from Brisbane, with cultural connections to Yieman country. The Francis Xavier Conaci Scholarship recognises the life of an Indigenous Australian youth who, in the mid 1850s, travelled from New Norcia in Western Australia to Rome to study in a Benedictine monastery. Sadly, Conaci died while there and is believed to be buried in Rome. His story continues to be discovered. The scholarship gives contemporary meaning to Conaci's journey by enabling an ACU Aboriginal or Torres Strait Islander student to study in Rome as Conaci himself did 164 years ago. ACU and the Australian Embassy to the Holy See hosted a ceremony during NAIDOC Week to acknowledge the scholarship. It has been awarded in an auspicious year. 2017 is the 50th anniversary of the 1967 Referendum in which Australians voted to amend the constitution to include Aboriginal people in the census and allow the Commonwealth to create laws for them. It is also the 25th anniversary of the Mabo decision which rejected the concept of 'Terra Nullius'. The Australian Embassy to the Holy See congratulates Nathan on this achievement and thanks ACU for its generosity in funding the Scholarship. Further information is available here.
1 July 2017 – Deputy Prime Minister strengthening Australia's relationship with the Holy See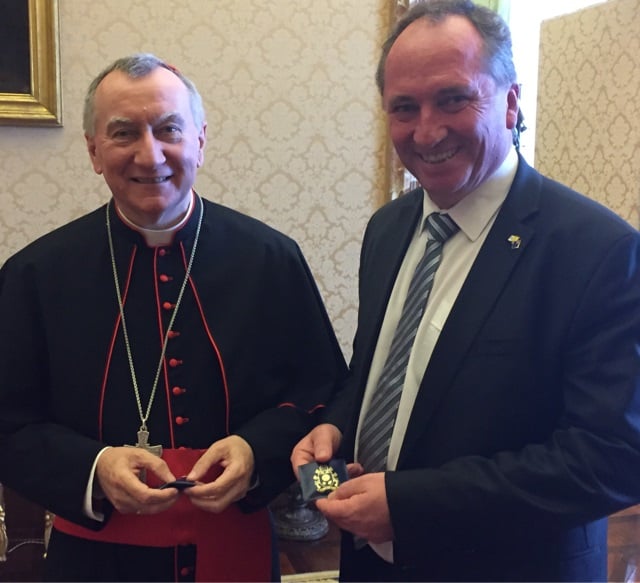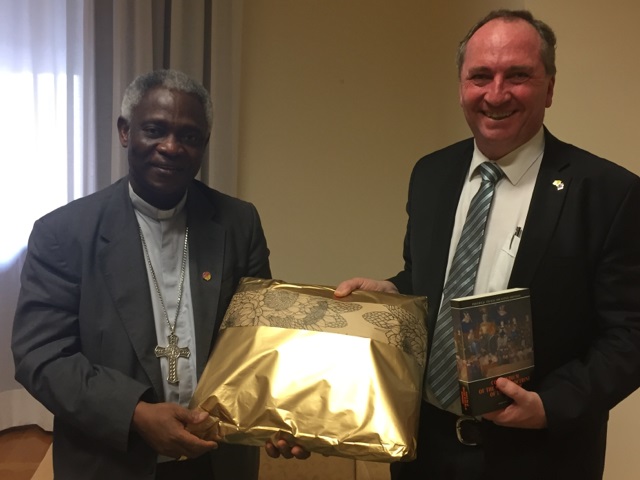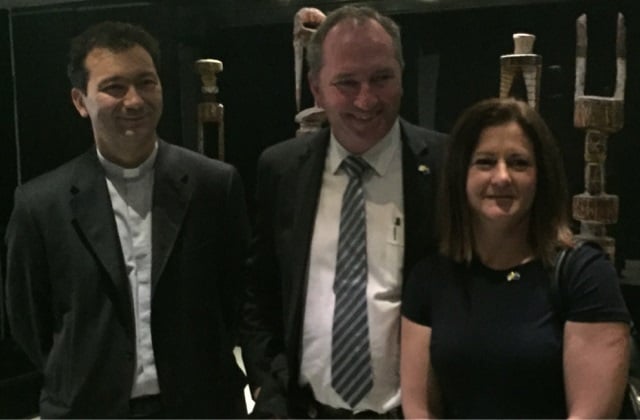 Deputy Prime Minister and Minister for Agriculture and Water Resources The Hon Barnaby Joyce MP visited the Holy See on 1 July 2017. This was the first Ministerial visit by Australia since 2014. Minister Joyce met Secretary of State His Eminence Cardinal Pietro Parolin (photo 1) and President of the Dicastery for Promoting Integral Human Development His Eminence Cardinal Peter Turkson (photo 2). He and Mrs Joyce toured the Australian Collection in the Vatican Ethnological Museum with Director Fr Nicola Mapelli (photo3), as well as the Sistine Chapel and St Peter's Basilica. Following representing Australia at the Food and Agriculture Organisation on 3 July, Minister Joyce interviewed with Vatican Radio. He said the Holy See had a unique role and standing in international affairs, and it was important this relationship continued. Discussions were wide-ranging. They included Australia's global moral responsibility to increase food production to alleviate world poverty by ending hunger, achieving food security, improving nutrition, and promoting sustainable agriculture. Their Eminences and Minister Joyce also focused on Australia's commitment to meeting our international obligations to resettle refugees from the Middle East and Africa. They exchanged views on the Holy See's and Australian Government's shared commitment to the realisation of the 2030 Agenda for Sustainable Development. Read Minister Joyce's media release here.
23 June 2017 - Meeting Australian Christian Brothers in Rome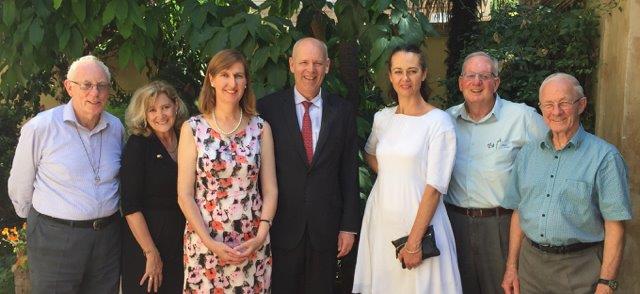 Australian Christian Brothers Julian McDonald, Peter Dowling and Kevin Callaghan welcomed HE Melissa Hitchman, Dr Adrian Hitchman, Deputy Alison Edye, Public Diplomacy Officer Madonna Noonan to their Generalate on 23 June 2017. Drawn from the Oceania Province, the brothers are members of the Congregational Leadership Team and Procurator-General respectively. The Embassy thanks them for their hospitality.
18 June 2017 - Australia hosting the Global Borrowers Forum

Australia's export credit agency, the Export Finance and Insurance Corporation (EFIC), hosted international counterparts to the Global Borrowers Forum at the Australian Embassy to the Holy See on 18 June 2017. Financial Information Authority President Dr Rene Bruelhart (pictured left with EFIC Treasurer Guy Morgan) addressed the Forum on Reform of the Vatican Finances, followed by Q&A.
14 June 2017 - Celebrating ordination to the Diaconate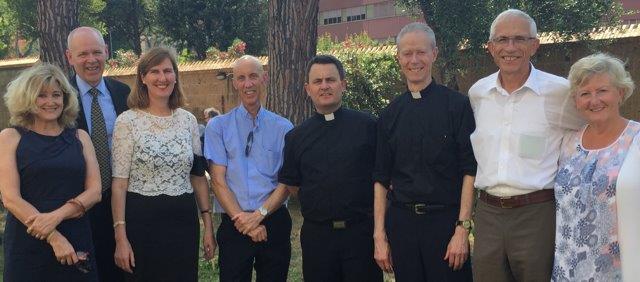 HE Melissa Hitchman, Dr Adrian Hitchman and Embassy Public Diplomacy Officer Ms Madonna Noonan celebrated on 14 June 2017 with Reverend Deacons Brian Muling (Archdiocese of Melbourne) Brendan Gormley (Archdiocese of Brisbane) and John Lovell (Archdiocese of Maitland-Newcastle) their ordination to the deaconate at St Paul's Outside the Walls followed by lunch at Beda College. The Embassy congratulates Rev Deacons Muling, and Lovell on their . See Beda College for further information.
13 June 2017 - Hosting ACU History students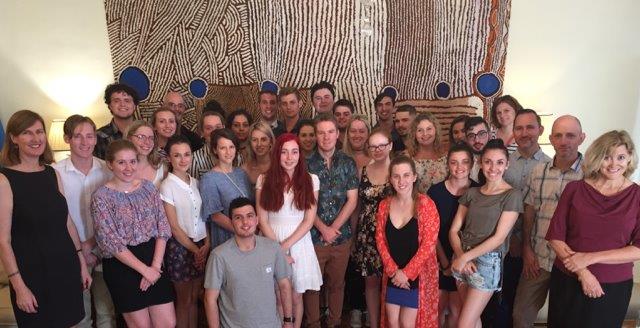 The Embassy hosted on 13 June 2017 over 30 Australian Catholic University history students and their lecturers visiting ACU's Rome Centre to a briefing on the Australia-Holy See relationship, followed by Q&A. HE Melissa Hitchman outlined the history of bilateral relations, priorities in the relationship and the broad policy agenda. Students expressed interest in Australian-Holy See efforts to combat human trafficking and modern slavery, manage the largest global people movements since WWII, and address climate change. They explored the role of a diplomat and Embassy and sought advice on recruitment into the Department of Foreign Affairs and Trade. The Embassy will host further ACU groups studying business, law, leadership, and international research until the end of July, as students take advantage of the Australian winter semester break. See ACU's Rome Centre for further information.
10 June 2017 - Gathering of the ANZAC community in Rome

Sister Helen of the Sisters of the Holy Family of Nazareth (pictured with HE Melissa Hitchman) hosted on 10 June 2017 the final gathering of the ANZAC group of religious and friends before the northern summer. The Embassy thanks the Congregation for its generous hospitality. Register with the group through Convenor Sr Kerry Scanlon FMM at kerryscanlon@yahoo.com
3 June 2017 - Meeting Australian Redemptorists in Rome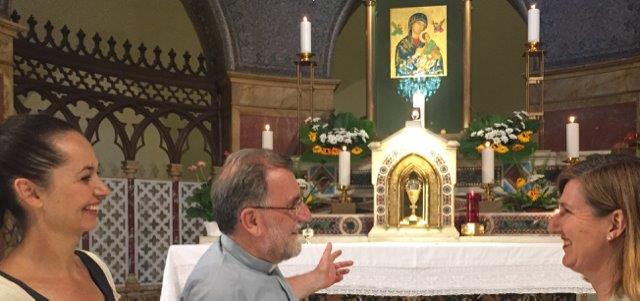 Australian Redemptorist moral theologian, author and lecturer Fr Terry Kennedy and the Redemptorist community welcomed HE Melissa Hitchman, Dr Adrian Hitchman and Deputy Alison Edye on 3 June 2017. Fr Kennedy gave a tour of the Generalate, the Alphonsian Academy and the Church of St Alphonsus Ligouri, followed by a briefing on the history of the original icon of Our Lady of Perpetual Succour in the Redemptorists' care. The Embassy thanks Fr Kennedy and the Redemptorists for their hospitality.
24 May 2017 - Promoting SDG4 with Global Partnership for Education Board Chair The Hon Julia Gillard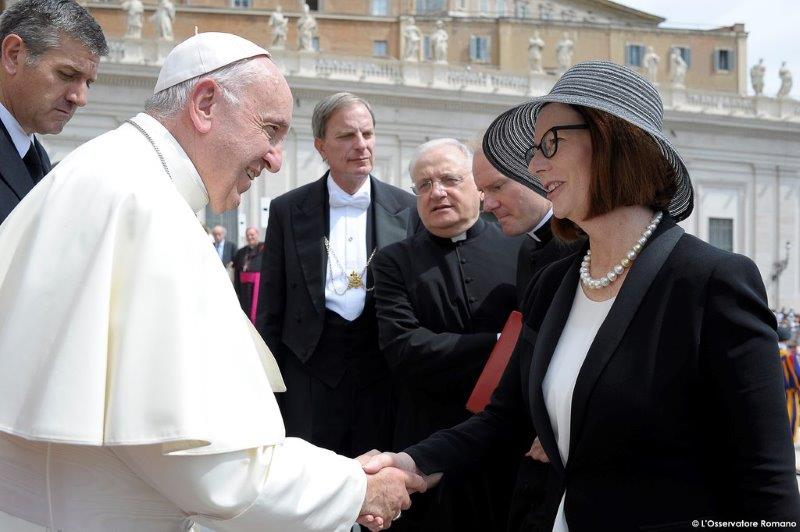 Global Partnership for Education Board Chair and 27th Prime Minister of Australia The Hon Julia Gillard visited Rome on 24 May 2017 in preparation for the GPE Replenishment Conference later this year. Ms Gillard met His Holiness Pope Francis, Secretary for Relations with States HE Archbishop Paul Gallagher and was guest of honour at a lunch also attended by the Congregation for Education Undersecretary Fr Frederich Bechina and ACU Managing Director and Sant'Egidio Director for Special Operations Dr Claudio Betti.
16 May 2017 - Celebrating Australian Indigenous Artist Deborah Cheetham and accompanist Ms Toni Lalich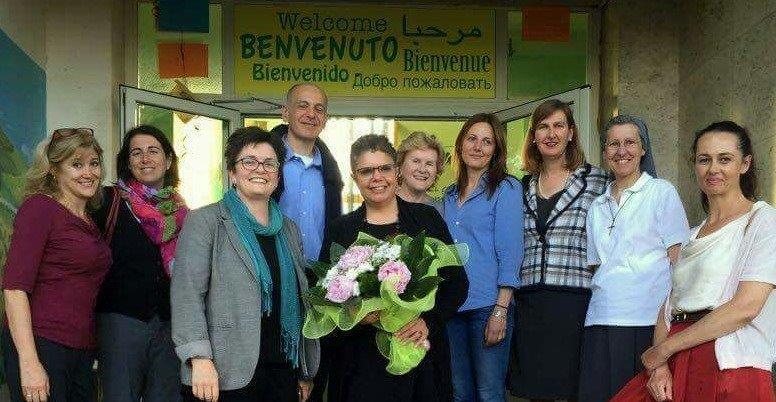 In the year of the 50th anniversary of the 1967 referendum and 25th year of Mabo, the Australian Embassies to the Holy See and Italy celebrated with a visit by Australian Indigenous opera singer, composer, playwright and actor Ms Deborah Cheetham and accompanist Ms Toni Lalich. Ms Cheetham and Ms Lalich paid their respects at the Vatican Ethnological Museum's Australia Collection, were the guests of honour at a lunch attended by the Pontifical Council for Culture and Australian religious, and performed Indigenous Dreamtime compositions and Italian Opera for families and unaccompanied minors at the Jesuit Refugee Centre welcoming facility Centro Pedro Arrupe.
1-6 May 2017 - Welcoming 300 Australian Pharmacists to Rome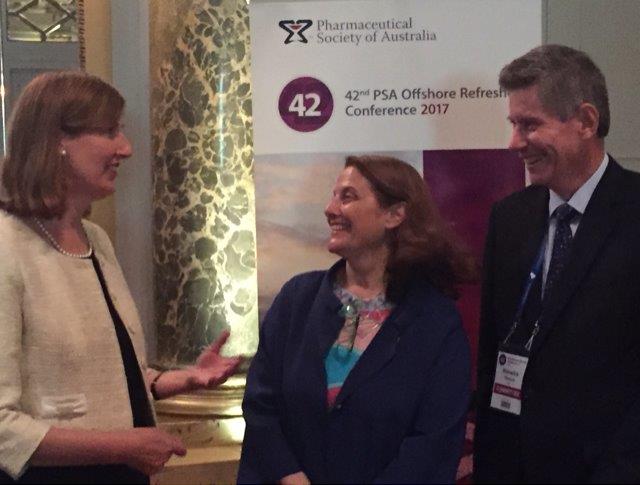 The Australian Embassies to the Holy See and Italy welcomed 300 pharmacists to Rome for the Pharmaceutical Society of Australia's (PSA's) annual Offshore Refresher Conference from 2-6 May 2017. HE Melissa Hitchman addressed remarks to the opening plenary of the Conference on the Australia-Holy See bilateral relationship before introducing Dr Maria-Christina Carlo-Stella (pictured centre), head of the Fabbrica responsible for management of St Peter's Basilica and Tomb, as the keynote speaker. Members of the PSA later toured the Vatican Museums, Basilica and Pharmacy, the latter led for 50 years until 2016 by Australian St John of God Brother Fabian. The week concluded with a reception at the Official Residence to the Holy See. The Embassy thanks Mr Warwick Plunkett (pictured right) for his collaboration in ensuring the series of events was a success.
25 April 2017 - Commemorating ANZAC Day 2017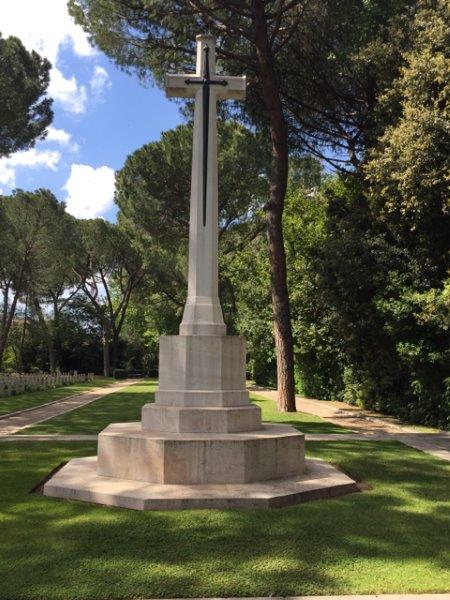 On 25 April 2017, Australians, New Zealanders, Turkish, Italians and many others gathered at the Rome War Cemetery (pictured), maintained by the Commonwealth War Graves Commission, to pay their respects at a ceremony led by New Zealand on the 102nd anniversary of the landing at Gallipoli and, later, at a commemorative mass, followed by a reception at Domus Australia. Further information on ANZAC Day is available here.
8 April 2017 - Gathering of the ANZAC community in Rome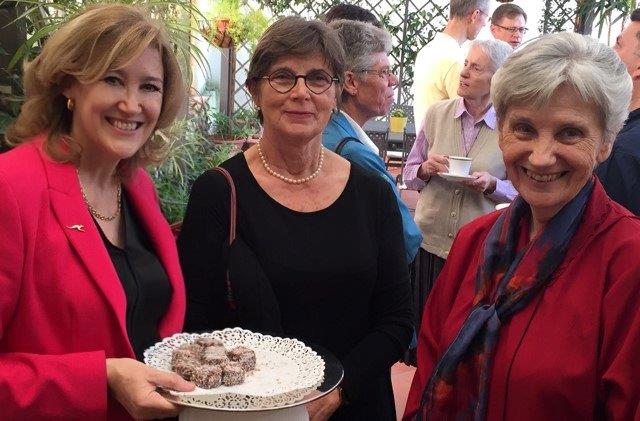 In the company of over thirty others, the Australian Embassy's Madonna Noonan (left) practiced lamington diplomacy with Carol Antram da Rin (centre) and Sr Vivienne Goldstein SM (right) at the monthly ANZAC gathering of religious and friends at the Official Residence of the Australian Ambassador to the Holy See on 8 April 2017.
3 April 2017 - Attending the briefing on the Dicastery for the Promotion of Integral Human Development

With HE Melissa Hitchman, Australian representatives Sr Mary Leahy RSJ (Regional Coordinator Apostolate of the Sea Archdiocese of Sydney, on the left) and Professor Anne Cummins (Deputy Vice-Chancellor Australian Catholic University, on the right) met with His Eminence Cardinal Peter K A Turkson (Prefect for the Dicastery for Promoting Integral Human Development, centre) during a briefing on the genesis and perspectives of the Dicastery and 50th Anniversary of the Encyclical Letter Popularum Progresso on 3 April 2017 at the Vatican.
29-30 March 2017 - Attending the Global Heads of Mission Meeting and briefing future Ambassadors at St Clare's College Canberra?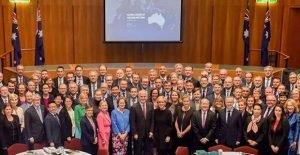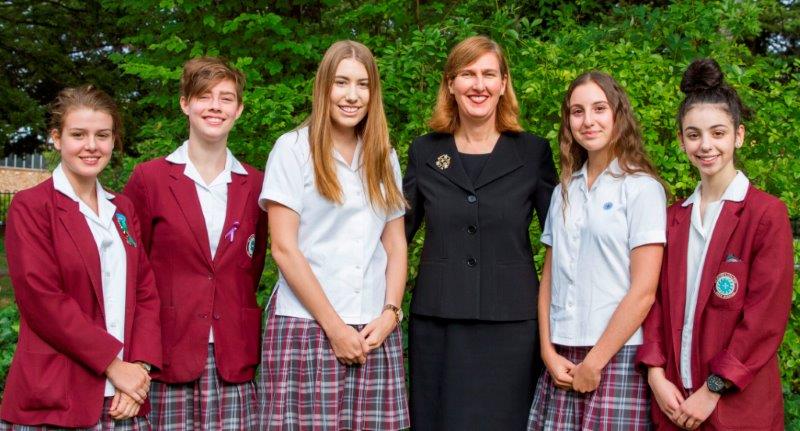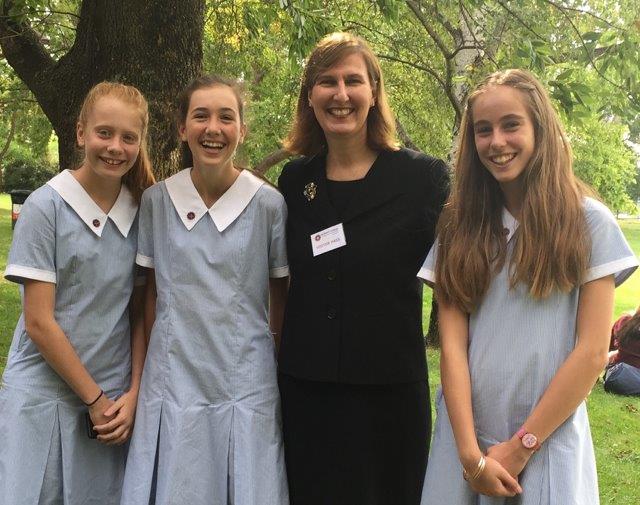 HE Melissa Hitchman – pictured in photo 1 with the Prime Minister, Foreign Minister and colleagues – attended the Global Heads of Mission Meeting (GHOMM) on 27-29 March 2017. Heads of Mission contributed to the formulation of the Foreign Policy White Paper due for release later this year. The Meeting also marked the thirtieth anniversary of the amalgamation of the Departments of Foreign Affairs and Trade. Following GHOMM, Ambassador Hitchman visited St Clare's College on 30 March 2017 and spoke to senior students on the theme 'St Clare's to St Peter's'. She discussed cooperation between the Australian Embassy and the Holy See on issues such as human trafficking and modern slavery, indigenous and gender empowerment, climate change, the sustainable development goals, and freedom of belief. Following the briefing, she met St Clare's College Captain Megan Phipps pictured in photo 2 far left, Year 12 (photo 2) and Year 7 (photo 3) St Clare's College students. Reconnecting with her alma mater on the thirtieth anniversary of her acceptance into the diplomatic service, Ambassador Hitchman hopes her journey may inspire students to consider a career in diplomacy. Perhaps a future Ambassador among those pictured?
22 March 2017 - Welcoming the Pontifical Commission for the Protection of Minors

On 22 March 2017 HE Melissa Hitchman welcomed members of the Pontifical Commission for the Protection of Minors (PCPM) and CEO of the Truth, Justice and Healing Council, Mr Francis Sullivan, for a luncheon briefing ahead of the PCPM's meetings at the Holy See over subsequent days. Clockwise: Baroness Sheila Hollins, Mr Francis Sullivan, Australian Commissioner Ms Kathleen McCormack AM, British Embassy to the Holy See Deputy Head of Mission Mr Steve Townsend, New Zealand Commissioner Mr Bill Kilgallon, Commission Secretary Monsignor Robert Oliver, Pontifical Gregorian University Vice-Rector and Centre for Child Protection President Fr Hans Zollner and Ambassador Hitchman. Both Australians presented to the Commission.
8 March 2017 - International Women's Day - # BeBoldforChange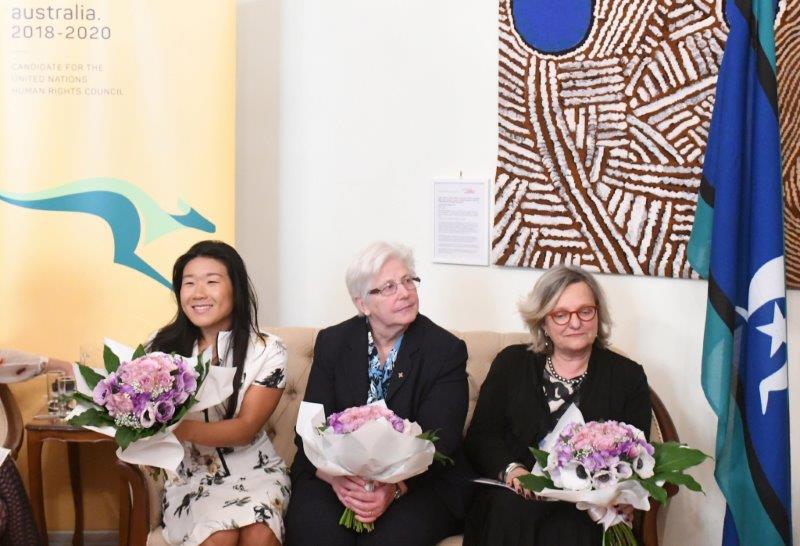 On the occasion of the 106th anniversary of International Women's Day, the Australian Embassies to the Holy See and to Italy hosted a seminar in which women shared their experiences of being bold in their chosen field. The Embassies invited a panel of three guest speakers: Pontifical Gregorian University Centre for Child Protection Executive Director Prof Dr Karlijn Demasure (right) presented on the protection of minors, relevant to the Royal Commission into Institutional Responses to Child Sexual Abuse. International Union of Superiors General (UISG) Executive Secretary Sr Patricia Murray ibvm (centre) addressed development in conflict zones, where many of the UISG's sisters work, Australians among them. Project Futures' Founder Ms Stephanie Lorenzo (left) spoke of her own and Australia's broader efforts to end Human Trafficking and Slavery. Both Ambassadors commented on their own respective experiences as a woman in leadership and a male champion for change. The seminar included a robust Q&A. Around 100 women and men attended, drawn from both Diplomatic Corps, the Curia and Italian government, the Australian religious and lay communities, international organisations and local media. Guests also enjoyed an opportunity for networking and further dialogue at the morning tea following the seminar.
5 February 2017 - Australian seminarians studying at the North American College

HE Melissa Hitchman, Dr Adrian Hitchman and family, accompanied by Deputy Alison Edye, were hosted by Australian seminarians at the Pontifical North American College for mass, brunch and a tour of the college on 5 February 2017.
3 February 2017 - Welcoming PNG's first Cardinal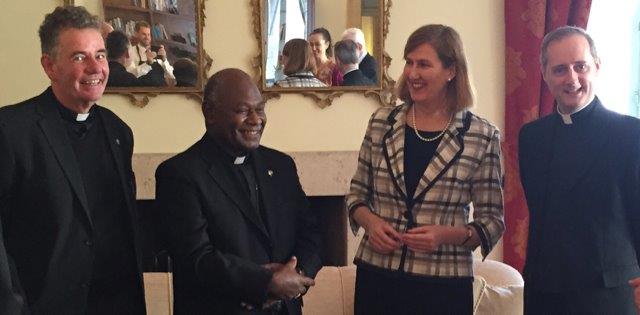 His Eminence Sir John Cardinal Ribat MSC KBE, Papua New Guinea's first Cardinal (second from left), visited the Australian Residence on 3 February 2017. He was accompanied by Australians Fr Ben Fleming MSC (Vicar-General of Port Morseby, left) and Fr Tony Arthur MSC (Secretary General), as well as Fr Mark McDonald (MSC Superior General) and the Holy See's Monsignor Seamus Horgan (Secretariat of State, right).
27 January 2017 - Meeting Australian FMMs in Rome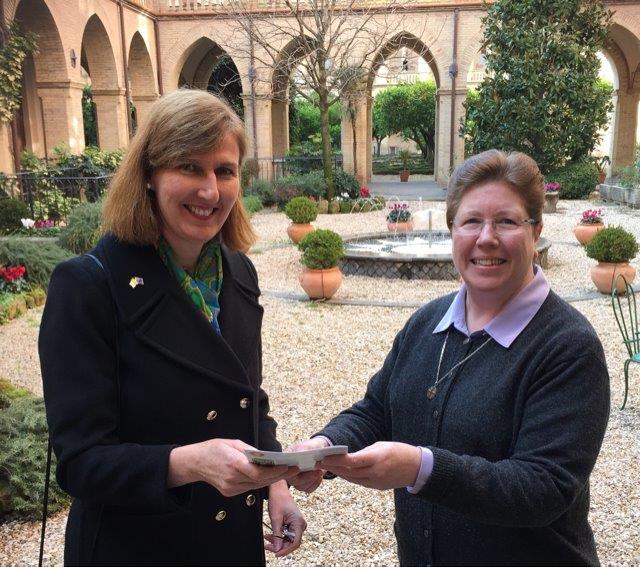 Australian Provincial Superior Sr Linda Price FMM briefed HE Melissa Hitchman at the Franciscan Missionary of Mary Mother House on 27 January 2017. She and fellow Australians Sr Narelle Skeers FMM, a member of the FMM General Council, and Sr Kerry Scanlon FMM welcomed the Ambassador, accompanied by Dr Adrian Hitchman and Deputy Ms Alison Edye. The Australian Embassy to the Holy See thanks Sr Scanlon FMM for her work as the Contact Person of the ANZAC Group of Australian and New Zealand religious. For further information or to register your interest in the ANZAC Group, contact Sr Kerry Scanlon at kerryscanlon@yahoo.com
26 January 2017 - Celebrating Australia Day with the Curia, the Corps & the Community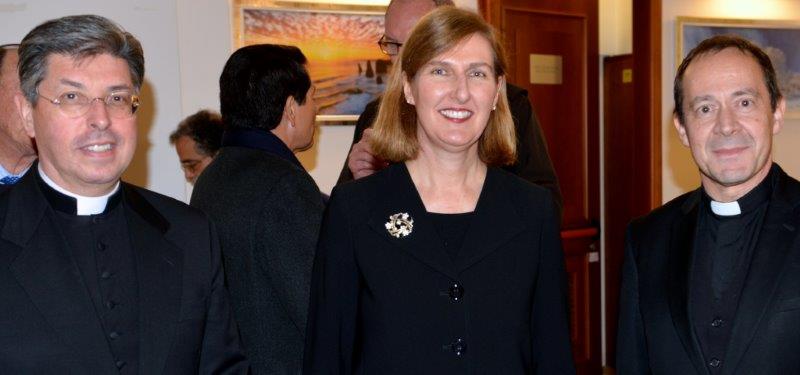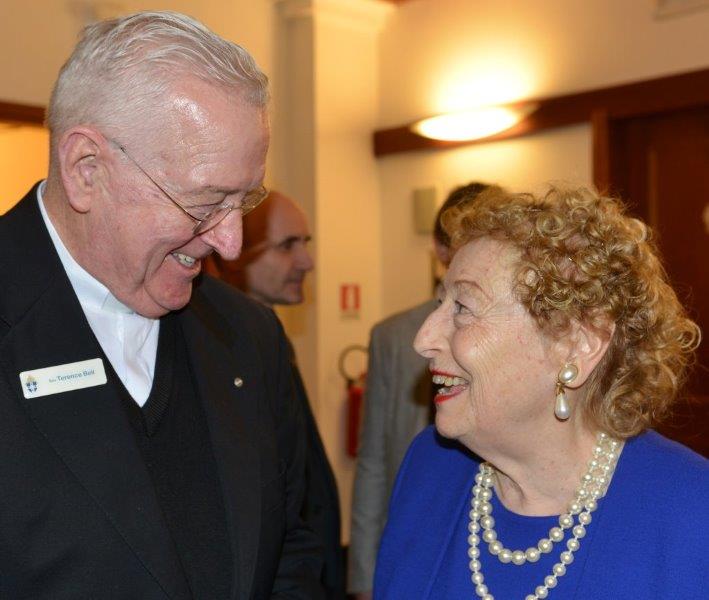 Domus Australia and the Australian Embassy to the Holy See welcomed a record number of guests on 26 January 2017 to celebrate Australia's National Day. Among those present were Undersecretary for Relations with States (Deputy Foreign Minister equivalent) Monsignor Antoine Camilleri (photo 1 right), Chief of Protocol Monsignor José Bettencourt (photo 1 left), Australian Catholic University's Dr Doseena Fergie (photo 2) and Guglielmo Marconi's daughter, Princess Elettra Marconi, with Domus Australia's Rector Fr Terry Bell (photo 3).
21 January 2017 - Australian mature-age vocations studying at Beda College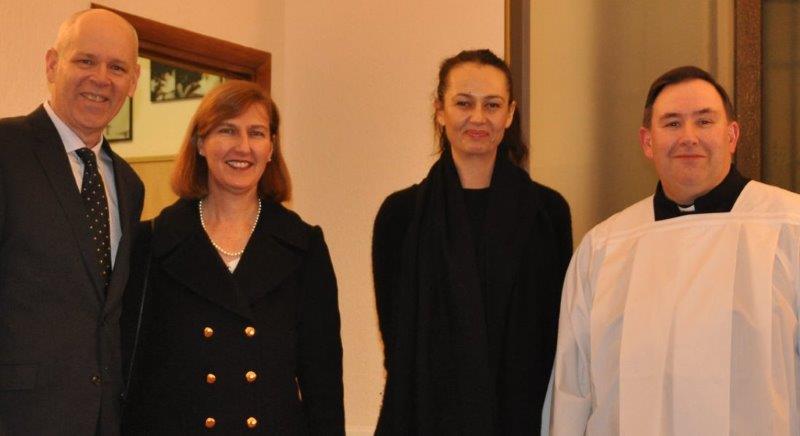 Canon Philip Gillespie, Rector of Beda College, welcomed HE Melissa Hitchman, Dr Adrian Hitchman and Deputy Alison Edye for the Prayer for Christian Unity, followed by dinner, on 21 January 2017. The embassy guests enjoyed the company of the five Australian mature-age seminarians currently studying at Beda, together with their international co-students.
19 January 2017 - Collaborating with the Corps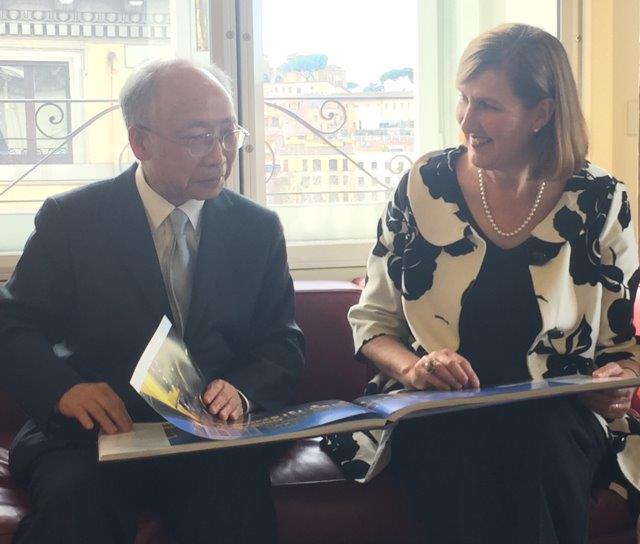 HE Melissa Hitchman met HE Jonghyu Jeong Dr.iur., Ambassador of the Republic of Korea to the Holy See, on 19 January 2017 to discuss advancing mutual interests in Holy See relations, including through the Greater Asian Group of Ambassadors, chaired by HE Mehmet Paҫaci, Ambassador of Turkey to the Holy See.
10 January 2017 - Australia and the Holy See partnering for the protection of minors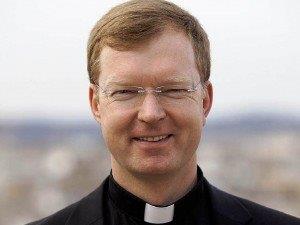 The Pontifical Gregorian University's Academic Vice Rector Fr Hans Zollner SJ and Director of the Centre for Child Protection (CCP) Professor Karlijn Demasure hosted HE Melissa Hitchman and Deputy Alison Edye on 10 January 2017. Fr Zollner, who is also President of the CCP, visited Australia in 2016, briefing Australian policy makers and abuse survivors on the Centre's work on child protection. Accompanied by the Australian representative on the Pontifical Commission for the Protection of Minors, Kathleen McCormack AM, Fr Zollner also advised stakeholders of the Commission's work.
9 January 2017 - Attending the annual Papal Address to the Diplomatic Corps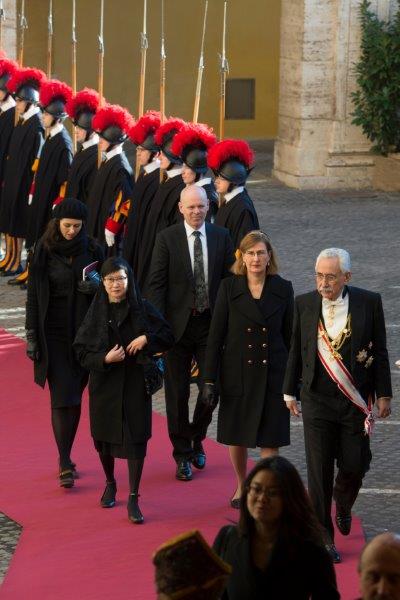 His Holiness Pope Francis addressed the Diplomatic Corps to the Holy See on 9 January 2017 on priorities for the year ahead: the theme was Peace and Security.
HE Melissa Hitchman, accompanied by Dr Adrian Hitchman and Deputy Alison Edye, arrived together with HE Janet Lowe, Ambassador of New Zealand to the Holy See, non-resident from The Hague, who was in Rome for the occasion.
Ambassador Hitchman's Vatican Radio interview on the Papal Address is available here.
Pope Francis' message to Australia's Indigenous Community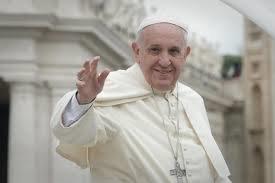 As we prepare to welcome the inaugural Conaci Scholar in July (see NAIDOC week entry below in "Forthcoming Events"), it is timely to recall Pope Francis' message to Australia's Indigenous Community on the 30th anniversary of Saint John Paul II's visit to Alice Springs on 17 October 2016. See here for more information in Italian. The Australian Catholic Bishops Conference also commemorated the historic visit. See here more information in Italian.
Useful information about visiting the Holy See
Visiting the Vatican - general information on booking various Vatican tours and tickets for events presided by the Pope