WELCOME TO THE AUSTRALIAN EMBASSY TO THE HOLY SEE
Buongiorno! Bonjour! (did you know the Holy See's official diplomatic language is French?) Hello!
Welcome to the official website of the Australian Embassy to the Holy See. I was honoured to take up my role as Australia's first resident female career Ambassador and third since the position was established in 2008. Here I am introducing my husband, Dr Adrian Hitchman to His Holiness Pope Francis following presentation of credentials on 8 September 2016. Listen to my credentials' interview with the Vatican Radio here.
The Holy See is both a state recognised in international law and the governing body for the Catholic Church of 1.3 billion. As Australia's official representative to the Holy See under the Vienna Convention on Diplomatic Relations, my focus is on the state to state relationship. Over five million Australians identify as Catholics. Many of them greeted the three Popes who have visited Australia: Paul VI in 1970, John Paul II in 1986 and 1995, and Benedict XVI in 2008 for World Youth Day in Sydney, which attracted TV and internet audiences of more than a hundred million each. Over 10,000 of them witnessed from St Peter's Square in Vatican City the canonisation of Mary MacKillop as Saint Mary of the Cross on 17 October 2010. In Rome, too, many welcomed Benedict XVI as he opened the Australian Catholic Church's pilgrimage centre, Domus Australia, in 2011.
My mission to the Holy See is to represent modern Australia – our vibrant democracy, indigenous heritage, multicultural society, activist foreign policy, and committed lay and religious making a difference in Rome and at home. See Forthcoming Events and Recent Events for further information on our activities. We hope you can join us!
With warm wishes
Melissa Hitchman
Australian Ambassador to the Holy See
Australia launches 2017 Foreign Policy White Paper

On 23 November 2017 Australian Prime Minister The Hon Malcolm Turnbull MP launched the 2017 Foreign Policy White Paper. It is the Australian Government's first comprehensive Foreign Policy White Paper in 14 years. The 2017 Foreign Policy White Paper is essential to our future security and prosperity and it affirms an outward-looking Australia that is fully engaged with the world. Find out more #FPWhitePaper
Australia elected to the UN Human Rights Council 2018-2020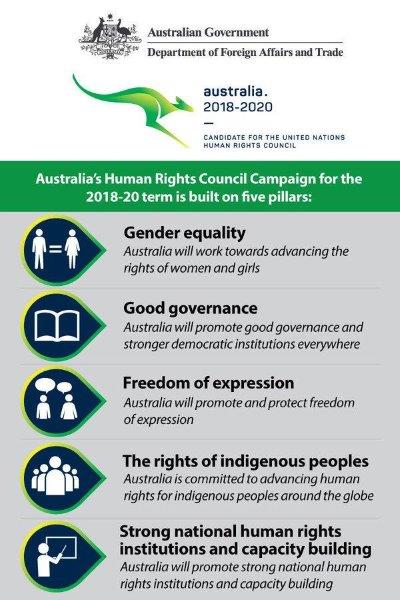 The Honourable Julie Bishop MP, Minister for Foreign Affairs, released a statement on 17 October 2017 to announce Australia's election by a majority of United Nations member states to serve on the Human Rights Council, the world's peak body for promoting and protecting human rights.
Australia took its seat on 1 January 2018 for a three-year term and is ready to work closely with other countries and civil society to protect and advance human rights around the world. It is in Australia's national interest to shape the work of the Council and uphold the international rules-based order. Respecting fundamental human rights and freedoms, and building them into the fabric of a society, makes Australia and the world safer and more secure.
Find out more #Oz4HumanRights
26 January 2018 Australia Day commemoration events at Domus Australia
8 March 2018 International Women's Day event
29 May 2018 Launch of the Australian Indigenous Catalogue (Collaboration of the Vatican Ethnological Museum and the Australian
National University) in the Vatican Museums in Rome. Read about the first launched in Canberra on 7 December 2017.
10 January 2018 - Women Ambassadors welcoming US Ambassador to the Holy See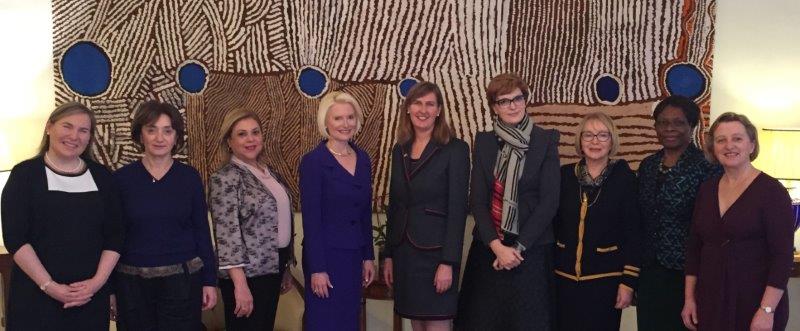 HE Melissa Hitchman, along with the other nine resident women Ambassadors currently accredited to the Holy See, welcomed US Ambassador to the Holy See, HE Callista Gingrich on 10 January 2018. Pictured L-R are HE Emma Madigan, Ireland; HE Tamara Grdzelidze, Georgia; HE Miroslava Rosas Vargas, Panama; HE Callista Gingrich, USA; HE Melissa Hitchman, Australia; HE Slavica Karacic, Bosnia-Herzegovina; HE Tetyana Izhevska, Ukraine; HE Agnes Avognon Adjaho, Benin and HE Sally Axworthy MBE, UK. HE Annette Schavan of Germany and HE Elvira Velasquez Rivas-Plata of Peru sent good wishes. All exchanged views on prosecuting respective national interests with the Roman Curia, including leveraging the resources of pontifical universities, national colleges, and diaspora.
Useful information about visiting the Holy See
Visiting the Vatican - general information on booking various Vatican tours and tickets for events presided by the Pope