WELCOME TO THE AUSTRALIAN EMBASSY TO THE HOLY SEE
Buongiorno! Bonjour! (did you know the Holy See's official diplomatic language is French?) Hello!
Welcome to the official website of the Australian Embassy to the Holy See. I was honoured to take up my role as Australia's first resident female career Ambassador and third since the position was established in 2008. Here I am introducing my husband, Dr Adrian Hitchman to His Holiness Pope Francis following presentation of credentials on 8 September 2016. Listen to my credentials' interview with the Vatican Radio here.
The Holy See is both a state recognised in international law and the governing body for the Catholic Church of 1.3 billion. As Australia's official representative to the Holy See under the Vienna Convention on Diplomatic Relations, my focus is on the state to state relationship. Over five million Australians identify as Catholics. Many of them greeted the three Popes who have visited Australia: Paul VI in 1970, John Paul II in 1986 and 1995, and Benedict XVI in 2008 for World Youth Day in Sydney, which attracted TV and internet audiences of more than a hundred million each. Over 10,000 of them witnessed from St Peter's Square in Vatican City the canonisation of Mary MacKillop as Saint Mary of the Cross on 17 October 2010. In Rome, too, many welcomed Benedict XVI as he opened the Australian Catholic Church's pilgrimage centre, Domus Australia, in 2011.
My mission to the Holy See is to represent modern Australia – our vibrant democracy, indigenous heritage, multicultural society, activist foreign policy, and committed lay and religious making a difference in Rome and at home. See Forthcoming Events and Recent Events for further information on our activities. We hope you can join us!
With warm wishes
Melissa Hitchman
Australian Ambassador to the Holy See
The Australian Government will proceed with the Australian Marriage Law Postal Survey of all Australians on the Commonwealth Electoral Roll. The process for the survey can be found on the Australian Bureau of Statistics (ABS) website. The Australian Marriage Law Postal Survey Information Line can be contacted directly from overseas on +61 2 6252 5262. Charges apply.
Australians should make preliminary arrangements for participating by checking their enrolment with the Australian Electoral Commission (AEC). Australians can also obtain information on registering as an overseas elector. Ph: +61 2 61602600.
Please note: Australians MUST be correctly enrolled with the AEC before 24 August to participate. Unfortunately, you cannot register via the Australian Embassy.
Key Dates
Thursday, 24 August 2017 - Electoral Roll closes for new enrolments or changes to enrolments (midnight local time).
Tuesday, 12 September 2017 - Commencement of mailing of forms and collection period.
Wednesday, 11 October 2017 – Requests for replacement material closes (6pm local time).
Friday, 27 October 2017 – The date all eligible Australians will be strongly encouraged to return their form by.
Tuesday, 7 November (6pm EST) – No responses received after this date will be processed.
Wednesday, 15 November 2017 – Statistics released.
Dates TBC Australian Indigenous Catalogue Launch (Collaboration of the Vatican Ethnological
Museum and the Australian National University) in Australia and Rome
20 November 2017 Catholic Healthcare Australia/Australian Catholic University reception
12 December 2017 St Catherine's and Cranbrook Schools Christmas Concert
6 July 2017 – Celebrating NAIDOC Week - Indigenous student wins Rome scholarship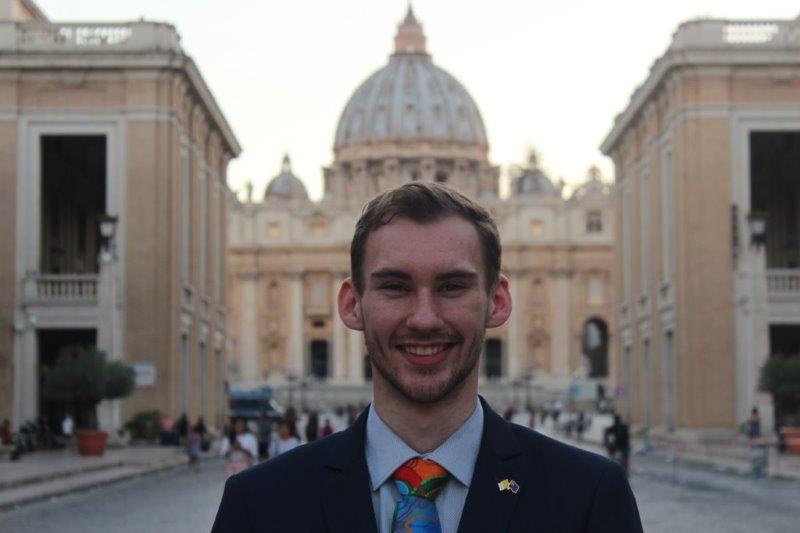 Nathan Pitt is the inaugural winner of the Francis Xavier Conaci scholarship which will assist him to study at the Australian Catholic University (ACU) Rome Centre this July as part of his International Core Curriculum studies at ACU's Brisbane Campus. Nathan is an Aboriginal student from Brisbane, with cultural connections to Yieman country. The Francis Xavier Conaci Scholarship recognises the life of an Indigenous Australian youth who, in the mid 1850s, travelled from New Norcia in Western Australia to Rome to study in a Benedictine monastery. Sadly, Conaci died while there and is believed to be buried in Rome. His story continues to be discovered. The scholarship gives contemporary meaning to Conaci's journey by enabling an ACU Aboriginal or Torres Strait Islander student to study in Rome as Conaci himself did 164 years ago. ACU and the Australian Embassy to the Holy See hosted a ceremony during NAIDOC Week to acknowledge the scholarship. It has been awarded in an auspicious year. 2017 is the 50th anniversary of the 1967 Referendum in which Australians voted to amend the constitution to include Aboriginal people in the census and allow the Commonwealth to create laws for them. It is also the 25th anniversary of the Mabo decision which rejected the concept of 'Terra Nullius'. The Australian Embassy to the Holy See congratulates Nathan on this achievement and thanks ACU for its generosity in funding the Scholarship. Further information is available here.
1 July 2017 – Strengthening Australia's relationship with the Holy See through the Deputy Prime Minister's visit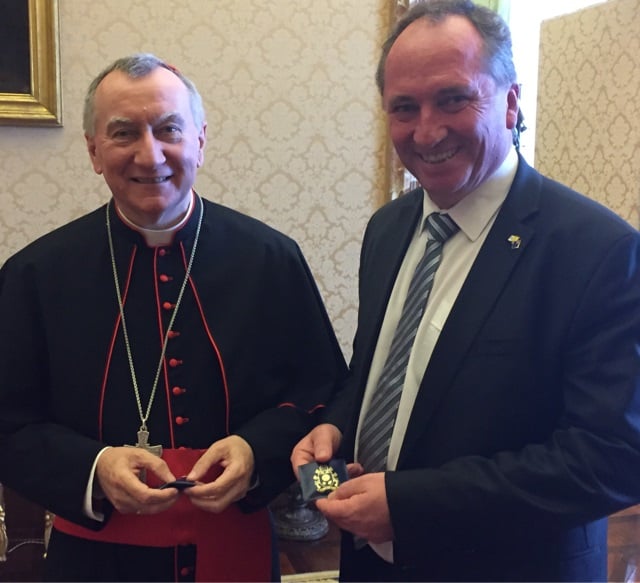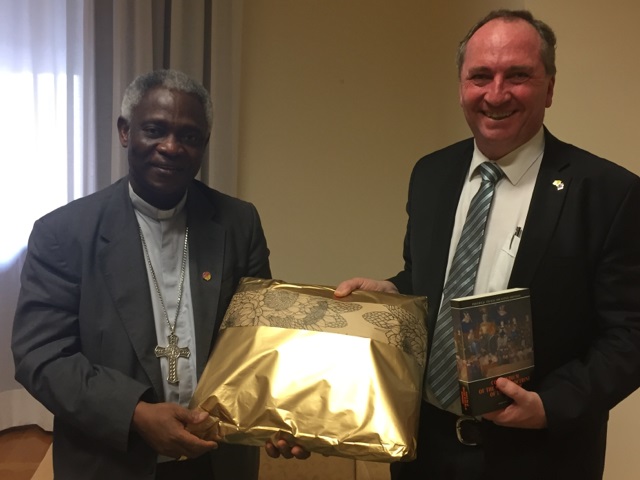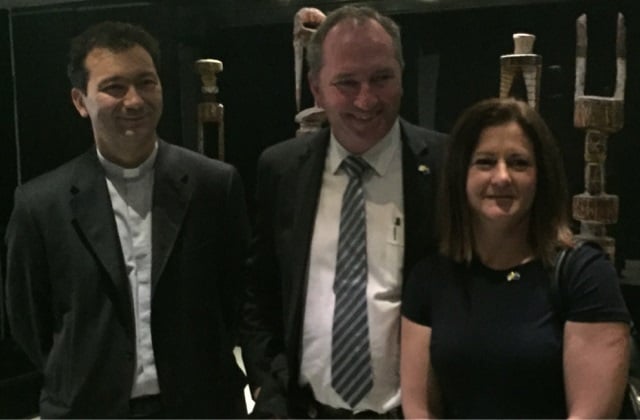 Deputy Prime Minister and Minister for Agriculture and Water Resources The Hon Barnaby Joyce MP visited the Holy See on 1 July 2017. This was the first Ministerial visit by Australia since 2014. Minister Joyce met Secretary of State His Eminence Cardinal Pietro Parolin (photo 1) and President of the Dicastery for Promoting Integral Human Development His Eminence Cardinal Peter Turkson (photo 2). He and Mrs Joyce toured the Australian Collection in the Vatican Ethnological Museum with Director Fr Nicola Mapelli (photo3), as well as the Sistine Chapel and St Peter's Basilica. Following representing Australia at the Food and Agriculture Organisation on 3 July, Minister Joyce interviewed with Vatican Radio. He said the Holy See had a unique role and standing in international affairs, and it was important this relationship continued. Discussions were wide-ranging. They included Australia's global moral responsibility to increase food production to alleviate world poverty by ending hunger, achieving food security, improving nutrition, and promoting sustainable agriculture. Their Eminences and Minister Joyce also focused on Australia's commitment to meeting our international obligations to resettle refugees from the Middle East and Africa. They exchanged views on the Holy See's and Australian Government's shared commitment to the realisation of the 2030 Agenda for Sustainable Development. Read Minister Joyce's media release here.
Useful information about visiting the Holy See
Visiting the Vatican - general information on booking various Vatican tours and tickets for events presided by the Pope